Dubai is the Middle East's wealthiest, highly developed, and most innovative city. Known as the city of the future, Dubai's landscape is dotted with futuristic skyscrapers, mega-road networks, and state-of-the-art facilities. It has a major pull for potential immigrants and investors who want to pack their bags and move here. Before doing so, we bring to you an essential list of things to know before moving to Dubai.
For the global citizen, Dubai is synonymous with wealth, opulence, and luxury. Due to its appeal as a land of opportunities and high quality of life infused with the exoticness of the East, expats consider Dubai an excellent place to relocate. It's sunny beaches, desert and camels, and hot weather have an alluring appeal for people of the West. With its thriving economy, advanced infrastructure, low crime rate, and tax-free living, Dubai enjoys its privileged status as a highly sought-after city worldwide. Added to this are spectacular landmarks like Dubai Marina, Dubai Mall, Burj Khalifa, and Palm Jumeirah. 
Such attraction has pulled many businesses and companies to Dubai on a UAE residence visa, enabling them to set up their regional offices here. Due to this, the city has become a lucrative hub of industries, hotels, and businesses. 
If you are also considering moving to Dubai this year, the first thing you may ask yourself is – how much does it cost to move to Dubai? It is indeed recommended to first do diligent research on the cost of living, area, the local laws, and way of life. Failure to do so would make your move stressful, brimming with unwanted surprises. 
Our blog aims to educate you on all the essential aspects of Dubai so that your transition becomes smooth, pleasant, and effortless. Once you know what to expect, you will surely enjoy all that the magnificent city offers and appreciate its many facilities, offerings, and uniqueness.
Without further ado, let's get into it.
Read on to discover the essential things to know before moving to Dubai and grappling with what you're getting into.
Essential Things to Know Before Moving to Dubai in 2023
Cost of Living
The foremost consideration on our list is Dubai's cost of living. Sure, the currency exchange rate might be favorable for some of you from the West. You will not be required to pay taxes here puts things into an even brighter perspective.  
However, the cost of living in Dubai is on the higher side as compared to other cities in the UAE. Despite being tax-free, living is still expensive here. Typical expenses like accommodation and rentals, groceries, and utilities are costly, especially in the more modern and developed areas like JBR and Dubai Marina.  
Its high living cost is, in fact, the reason Dubai attracts more well-to-do affluent people who want a luxurious lifestyle.  
Since rental costs have skyrocketed recently, living has become more expensive in the metropolis. Accommodation costs in Dubai are at par with other major world cities, not less. This has yet to deter expats from moving here, though, as one's cost of living depends on where one lives and their lifestyle. The more opulent and luxurious you want your lifestyle to be, the higher the price tag you have to pay.  
Other expenses like groceries, restaurants and retail are also expensive here due to the high import taxes on products sourced from abroad. Schools, nannies, and healthcare are additional expenses to keep in mind for families moving here.  Hence, high living costs are among the list of essential things to know before moving to Dubai.
Weather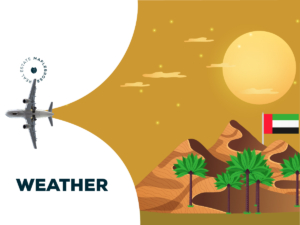 Dubai is a desert city, meaning the weather here is hot all year round. The summer months from May to September are exceedingly hot, with temperatures rising to 50 degrees during the daytime. Evenings are comparatively cooler and pleasant. 
The weather the rest of the year, especially during winter, is milder and more enjoyable. However, the lowest the temperature gets in winter is 20 degrees. So for people coming from extremely cold climates, Dubai's weather is usually a welcome experience. 
 The ocean breeze provides relief from the stifling heat, but it also increases the humidity levels. The average rainfall in Dubai is only 3.5 inches per year. 
Fortunately, the government has fully equipped its infrastructure to facilitate the hot desert weather. All buildings and units are air-conditioned, so residents don't feel the suffocating heat outside, even during the hottest months. People who struggle with hot weather may want to consider the local temperatures on their list of essential things to know before moving to Dubai.
Islamic Holidays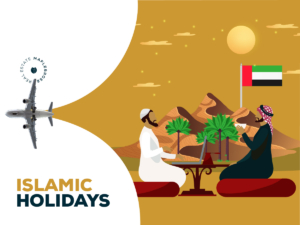 The UAE is a Muslim country that follows the Islamic calendar for all its annual holidays and events. 
Ramadan is an important month in the Islamic calendar where Muslims fast from dawn to dusk. Several organizations shorten their workday to six hours during Ramadan. It is essential to consider that eating and drinking in public is strictly forbidden during this month and if deemed an offense, liable to a fine. 
Friday is also an important day for Muslims due to their special Friday prayers. Although the country has revoked its earlier weekend policy for Friday, making Friday a working day, some organizations still consider it a half day and relieve their employees for prayer. 
Also, remember that Muslims pray five times a day, so going off for prayer breaks in between working hours is shared here. Don't be surprised if you see shops and businesses put up "closed for prayer break" notices on their doors. 
Local Laws and Bureaucracy
UAE has a strict local government law enforcement framework with very stringent penalties when somebody breaches the rules and regulations.
Before moving here, acquainting yourself with the local law and way of doing things is advisable. For instance, being an Islamic country, the public consumption of alcohol is strictly prohibited. Catering to the huge expat population, the government has allowed restaurants, cafes, and the hospitality industry to serve alcohol under special permits. However, you will need a special license to store, transport, and consume alcohol individually.
Per Islamic values and traditions, public displays of intimacy and affection are also forbidden. This may be hard for Westerners to wrap their heads around but committing such an act is offensive and liable to penalties, often resulting in deportation. Similarly, extra-marital relationships and live-in relationships are frowned upon and not allowed.
Possessing and consuming poppy seeds is another deal breaker in the UAE. Poppy seeds are forbidden as they are used in making opium. You may only be consuming these for cooking or medicinal purposes. Still, according to local law, you are breaching the rules and are liable to punishment.
Eating and drinking on all public transport are strictly forbidden, as is public swearing or making offensive gestures. Doing so can result in deportation.
Another glaring fact about the UAE is its high levels of bureaucracy. Bureaucracy is heavily steeped in all the country's local laws and regulations. It can get frustrating for Westerners to realize that they need a permit or a license for many things they took for granted back home. To name a few, you need a permit to drink, a license to work, a license to drive, and so on.
Lastly, the government of UAE has a strict influence over the country's print, digital, and social media. Some social media are filtered and checked for content. At the same time, several websites are not accessible in the country for various reasons. Any digital content on politics, sex, or anti-Royal family sentiments is considered highly offensive and punishable by local law. Hence, UAE laws are amongst the very essential things to know before moving to Dubai. 
Local Culture
Like all countries, UAE has cultural norms, culture, and a way of life. Though an open-minded and progressive Arab nation, the government operates on an Islamic framework. Islamic traditions and values heavily influence it. 
Thus there are specific standards of public decorum expected from all residents. Foreigners and expats are required to show respect for Islamic traditions by dressing up modestly. The concept of modesty in the UAE is more relaxed from other more strict Islamic countries; however, people are still expected to wear clothes covering them from the shoulders to the knees. Beach and resort wear is common in holiday and tourist spots, but in public places, you must observe modesty. 
Similarly, using foul language or making suggestive or obscene gestures is frowned upon, often punishable by heavy fines or deportation. Other liberal western norms, like public displays of physical intimacy and extra-marital relationships, are also not accepted in the local culture. 
It's wise to instill cultural awareness of the city you want to relocate to avoid cultural shock and assimilation issues. Respecting local sentiments and traditions will help you adjust smoothly to society. 
Medical Health Insurance Coverage
Dubai has a premium standard healthcare system and some of the most advanced and accessible medical facilities. There are two types of hospitals: public and private. Public hospitals offer free or low-cost medical care and are of decent standards. As per law, employers provide their employees medical coverage through health cards applicable to all public hospitals.
Private hospitals, meanwhile, are equipped with advanced state-of-the-art medical equipment and facilities but are expensive. Thus, if you want to avail premium healthcare, we advise you to purchase medical insurance and choose one of the best medical health insurance companies in Dubai before moving. Failure to do so may result in the refusal of your residence visa. So, being aware of acquiring health coverage is an essential thing to know before moving to Dubai.
Transportation Services and Public Transport
While Dubai has an excellent local transport and public transportation system, the network is less extensive than in Western cities. Significant destinations and landmarks are serviced by buses, yet the transit network only connects some parts of the city.
One of the efficient means of transport is the Dubai Metro, which is a cheap and convenient way to get around. At the same time, the taxi service is also equally affordable and accessible. Through the Smart Taxi app, calling a taxi is a matter of a few seconds at the convenience of your fingertips.
Other public transport modes include trams, ferries, and water taxis in certain parts of the city. However, many people prefer using their private cars, as some localities and suburban neighborhoods are best accessed by private vehicles.
Local Cuisine
Dubai's 80 percent population is made up of expats. As a result, local cuisine is influenced by many international flavors. You will always have food and dining choices in Dubai, with various restaurants and cafes serving cuisines from over a hundred countries. Indian, Greek, Japanese, Middle Eastern, and Mediterranean are famous cuisines here.
The Dubai local cuisine resembles the food of the Middle Eastern region, which is a favorite of many foreigners. Yet if you still need time to adjust to the traditional food of UAE and local flavor, there are international food chains, food courts, and fast-food joints here that will remind you of home.
Brunch is the UAE's most popular meal of the day, with restaurants and boutique cafes serving up some delectable brunch menus daily. You can explore the different culinary options and offerings of Dubai through its various brunch menus and deals plus food delivery options as well.
Language
Arabic is the official language of the UAE. Still, English is widely spoken and understood in all domains and spheres. So, language is one factor that will be fine for you when relocating to Dubai. Although, it's always helpful to learn a few essential common Arabic terms and phrases. Doing so will help you assimilate better into the local community.
Ladies' Nights and Women's Only Spaces
Despite having a male-dominated population, Dubai gives importance to its female residents by providing them with exclusive deals, promotions, women only hiking trips and privileges.
Once a Tuesday night special, now almost every night is a "Ladies Night" in Dubai. Restaurants, hotels, and other hospitality sectors offer women meal discounts, free drinks, or complimentary shisha. Spas and resorts offer ladies exclusive deals and complimentary access to areas like the pool or beach.
Further, women's only zones are allocated in public areas like the metro, beaches, and building entrances. In addition, due to its crime rate and special protection of women's rights and spaces, Dubai is considered an excellent choice for single women to relocate to.
Safety
The world index site Numbeo rated Dubai one of the safest cities in the world. This statistic has a massive story to tell global residents about the city's unique law enforcement system. The city has a strict rule and protocol framework, which all residents must adhere to rigorously. The system of punishments and penalties is equally severe and effective in keeping the crime rate minimum. You might want to consider add this on your list of essential things to know before moving to Dubai.
Tax-free Living
UAE's tax-free living is the hallmark of the country's appeal to the global community. There are no taxes on income, property, or other means of capital gains here. This provides residents with a significant potential to increase their savings and wealth.
Though the cost of living in Dubai is high, the wages are equally high. With a tax-free policy, residents have an excellent opportunity to earn good revenue. Lifestyle choices can be crucial in determining one's overall cost of living.
The only exception on taxes is the import tax placed on products that are sourced from overseas.
Wrap Up
While Dubai is an exciting destination to relocate to with its abundance of opportunities and amenities, it is wise to understand its demographics, laws, and culture before moving here. Your research and understanding of its way of life, respect for its Islamic traditions, and the importance of the Royal family will go a long way in helping you adjust to your new life in Dubai.
Ready to move to Dubai? Explore property options with Maple & Rose