There has been much hype surrounding the recent introduction of the Golden Visa by the government of the UAE. With already millions of people having moved to the Emirati nation under this long-term residence visa and an equal number of aspiring applicants waiting to do so, no wonder the Golden Visa appears to be an exciting scheme promising several opportunities.
The Golden Visa is an unparalleled initiative by the UAE government aimed at pulling high-income individuals and people with exceptional talents to come forth and contribute to strengthening the local economy and the country's prosperity. 
UAE plans to build a bright future of technological advancement, futuristic infrastructure, and cutting-edge innovation through investors, entrepreneurs, and professionals' expertise, resources, and skill sets. 
True to its name, the Golden Visa holders have many glittery, alluring benefits. It's an attractive and advantageous visa option for many because of its allowance of long-term residency, i.e., up to 10 years, with the possibility of renewal. Moreover, this special visa category has no pre-requisites or conditions for approval, such as local sponsorship or employment offer. 
The Golden Visa UAE is of special interest and benefits for investors, due to which it's also sometimes called the "Investor Visa". The reason for this is that the clauses of this visa are quite lucrative for investors of all categories. It is the most popular and preferred option if you, as an investor, want to relocate to the UAE under long term residency.
With such an appealing prospect promising so many socio-economic opportunities, we're sure you must have several queries about the nitty gritty of the Golden Visa; are you eligible? What benefits will you get? Who can you bring along? 
Below we explain all the details about the Golden Visa hoping to answer most of your questions. 
Eligibility: Who Can Apply for the Golden Visa?
The fantastic part about UAE's Golden Visa is that it includes many categories of individuals who are eligible to apply . Whether you're looking to invest your savings in property here or are a  professional with skills to share, UAE welcomes you with the Golden Visa.
If you fall under any of the following categories, you are eligible to apply.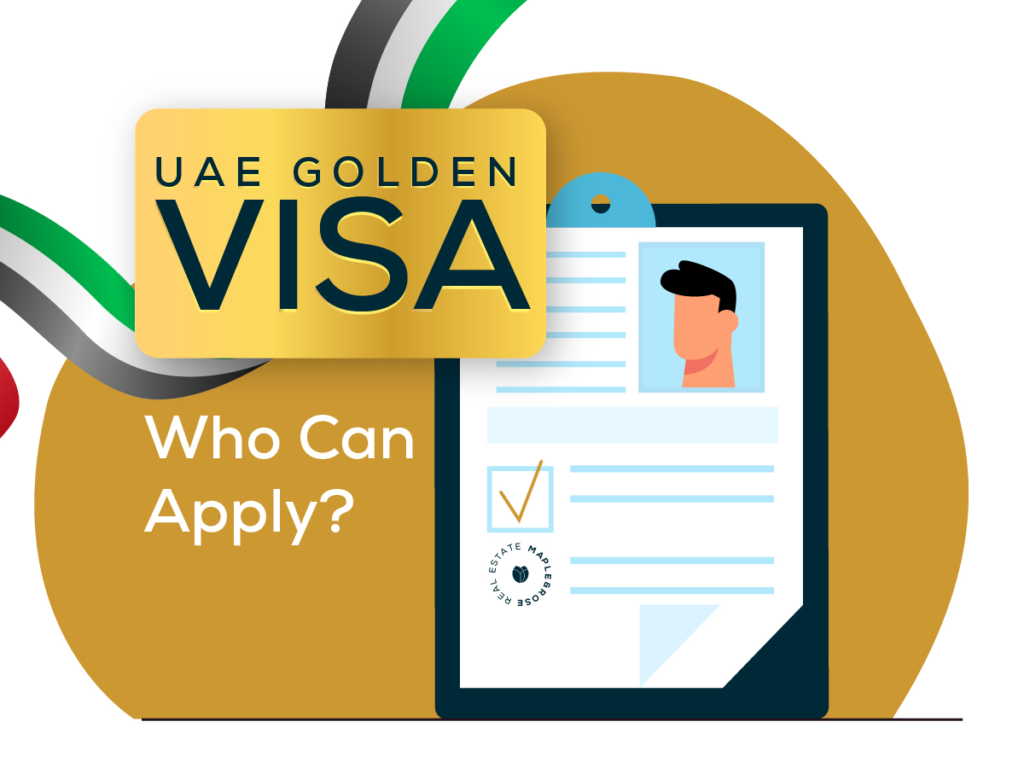 The investor category includes real estate investors and those looking to invest in a public investment fund or a bank. To be eligible to apply in the investor category, you need to invest either in property worth at least AED 2M or obtain the same amount as a loan from an authorized bank to make your purchase. 
Alternatively, real estate investors can also opt to invest in off-plan projects approved by a registered real estate firm, with a minimum amount of AED 2M. 
Individuals can also opt to invest in public investment funds by showing proof of investment of AED 2M in the fund or a financial institution.
Entrepreneurs who are either sole owners or partners in an enterprise with a technical or futuristic nature are eligible to apply for the Golden Visa. They have to meet a few conditions, including getting a local auditor to declare that their project value is at least AED 500,000. 
Moreover, they also need to have a relevant local authority or business incubator declare the technical or future-based nature of their business project and have its feasibility established.
Many industries and talents come under the skilled professional category, also called the special talent stream. Individuals from the following fields are eligible to apply within this category:
Doctors

Scientists

Engineers

IT professionals

Executives

Creatives (people belonging to the fields of art and culture)

Inventors

Athletes 

PhDs
The significant aspect of the skilled professional category is that unlike other immigration-friendly countries like Canada and Australia, UAE doesn't restrict the number of years of experience, salary, and type of education. The applicants do, however, need to provide letters of approval or recommendation from relevant authorities or organizations and educational certificates where applicable.
Outstanding High School and University Students
Exceptionally bright, high-achieving students from recognized institutions are eligible to apply for the Golden Visa UAE. 
With the fulfillment of a few conditions like maintaining a score of 95% (for high school students) and a GPA of no less than 3.5 (for university students), and a letter of recommendation from UAE's Ministry of Education, students can obtain long-term residency in the UAE.
Social Workers and Frontline Heroes
This particular category honors and includes people who have served humanity or contributed to the betterment of society, especially in times of crisis. 
People eligible under this category include nurses, medical assistants, lab technicians, pharmacologists, and employees or members of civil, regional, or international organizations.
Golden Visa UAE Streams for Investors
Truly an investor's delight, the Golden Visa offers multiple investment options to investors looking for long-term residency in the UAE. These can be categorized into two main streams; the 10 Year Golden Visa and 5 Year Golden Visa.
Let's explore the particulars of both streams.
Those looking to invest in a public investment fund, trade license, or bank with a deposit of AED 2M minimum are eligible to get a ten-year residence visa. There is no requirement for local sponsorship, and the visa is renewable with the same conditions.
Depending on the type of investment, whether it's a public investment fund, trade, or commercial license, there will be a separate list of documents the applicant must provide with their application. Furthermore, the applicant must show proof of complete ownership of the investment asset and medical insurance for themselves and accompanying dependents.
The five-year visa is primarily meant for real estate investors who can invest in residential or commercial property with a minimum of AED 2M. The applicant must own a property or group of properties with a minimum worth of this amount. Alternatively, they can obtain a bank loan of at least AED 2M to purchase the property. Proof of ownership or bank loan must be provided with the application.
No local sponsorship is required to qualify for the visa. Additionally, the five-year visa is renewable under the same conditions. It allows Golden Visa holders to bring their families and dependents with them for the duration of their stay in the UAE.
Golden Visa UAE Benefits
True to its name, the Golden Visa can be gold for visa holders as it provides an extensive list of benefits and advantages. The significant benefits of this visa and its salient features are listed below:
Multiple entries to the UAE allowed with the issuance of residency status

Long-term visa that is renewable without any prerequisites

Local sponsorship is not required to obtain the visa

Tax exemptions on all kinds of incomes

Freedom to live, work, study, do business or invest during stay in the UAE

Allowance to exit UAE for more than six months at a stretch without foregoing visa

Allowance to sponsor family and dependents, i.e., spouse and children, regardless of their ages

No limit on the number of domestic workers that the visa holder can sponsor

Family members are allowed to stay in the UAE for the duration of the visa in case of the death of the principal visa holder

Free of cost issuance of Essad Card

High quality of living amidst an environment of technological innovations and world-class amenities
There you have it, a list of some of the major benefits the Golden Visa can provide to Golden Visa holders and their families. It sounds too good to be true right?
Ready to learn how you can apply for the Golden Visa? Our next section covers the basic steps of the application process to make your visa application experience as smooth and hassle-free as possible.
How to Apply for Golden Visa UAE
The UAE government has made the Golden Visa application process automated, efficient, and systematic through its website's online application portal. There are no confusion or information gaps regarding the process, waiting period, or the required document checklists.
Nonetheless, we will guide you through this self-explanatory process with the following quick steps:
Login and register at the UAE government's official page, i.e., the GDRFA login page.

Select your desired

Golden Visa

stream or category. If you're an investor, you must decide which investment stream you want to apply in. This decision is generally based on the type of investment you plan to make: real estate, an investment fund, or a trade/commercial license.

Fill out the relevant

Golden Visa application

form and attach all required documents and files with the form. You will be given acceptable file formats and image sizes for reference and a document checklist.

Pay the visa fee online by providing your banking details on the secure payment gateway.

You will receive confirmation and receipt of your application within 72 hours of submitting your application and visa fee. You will also be notified if you still need to attach any required documents from the checklist. Remember to submit the documents within 30 days to avoid the cancellation of your application.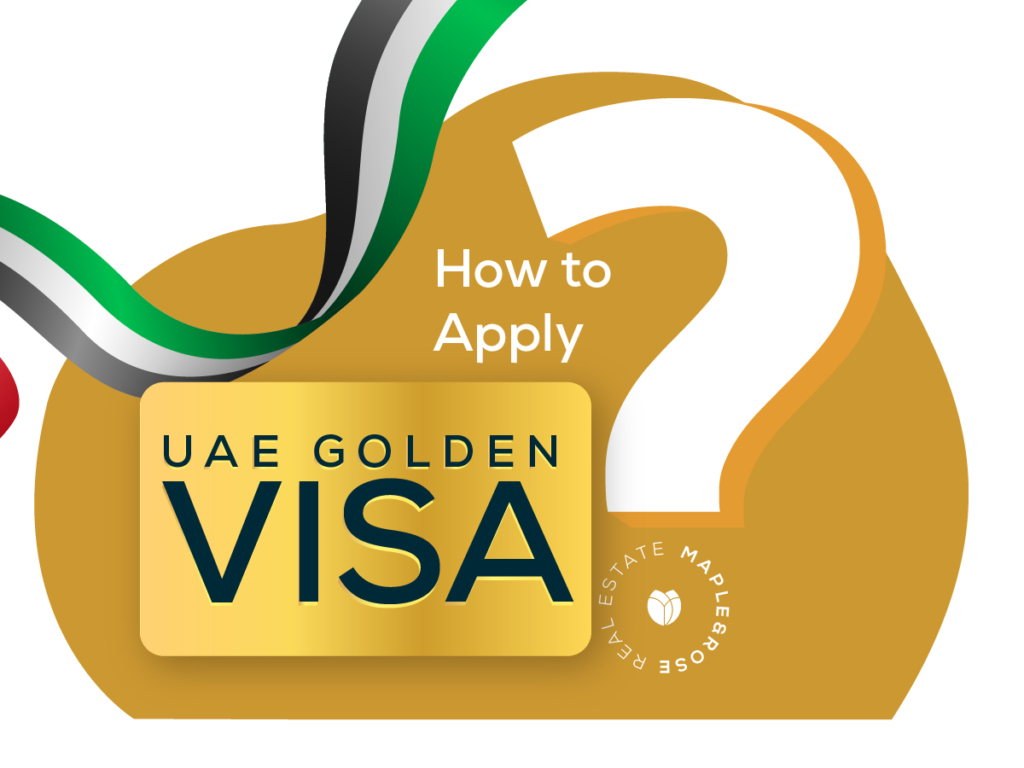 Wrapping Up
For aspiring individuals who want to relocate to the UAE with a valid long-term visa and enjoy complete independence and free will to live and earn the way they desire, the Golden Visa is the best option the UAE government has offered in recent years.
There is renewed excitement, hope, and enthusiasm associated with the Golden Visa in the bright, progressive future of the country. It is a great initiative to kickstart UAE's economy in the post-pandemic world by attracting and retaining skilled minds and high-income professionals and enabling them to come forward to help the country thrive.
Conversely, it allows foreigners to emigrate to the UAE and enjoy a superior quality of life and access to the best technological advancements and world-class amenities.
Frequently Asked Questions:
How Much Does the Golden Visa UAE Cost?
The costs of the visa depend on the visa category and duration. Please refer to the below details for a general idea:
5 year  Residence Visa
Residence Fee: AED 2,280
ID Fee: AED 575
10 year Residence Visa    
Residence Fee: AED 2,790
ID Fee: AED 1,070
Can You Get a Golden Visa Without a Sponsor?
One of the best parts about the Golden Visa is that you don't require local sponsorship to be eligible for this visa. All you need to do is fulfill the requirements and conditions, like providing proof of investment and letters of recommendation.
Are There Any Conditions for Getting the Golden Visa?
There are no pre-requisites or conditions that prospective applicants must fulfill to qualify for the Golden Visa, with the following exceptions:
Proof of financial investment of minimum value of AED 2M

Statement of account

Criminal record from the police in the countries the applicant has resided in

Medical test reports from registered and approved health practitioners
Let Maple & Rose guide you on your investment journey and find you the best deal in the market.