Relocating to any new place can be an exhilarating ride of emotions. The excitement of a new life in a foreign place with the anxiety of finding your feet on alien grounds can be nerve-racking for some. With so many things to preplan and arrange, it's always beneficial to have a complete moving to Dubai checklist at hand. That way you're sure to do all that is necessary before and after your move.
Dubai is a fantastic and promising destination in the United Arab Emirates to move to, whether you're looking to invest your wealth and make some more or start a new chapter of your life in the Exotic East. Though each country comes with its own set of challenges and wrapping our heads around them can be overwhelming for the bravest of us. 
With so many things to plan and tasks to get done in one's home country and the new city you're going to, the entire experience can be exhausting. There are several factors to cater to; accommodation, jobs, schools, finances, Emirates ID, and licenses are just the tip of the iceberg. 
Planning ahead is the key to a successful move, and putting stuff on a timeline helps get most tasks done on time.
Complete Moving to Dubai Checklist
Rid yourself of pre-move jitters with our comprehensive checklist that covers all essential tasks you must do before moving and while you land in Dubai.  
Your move will require lots of essential documents you must get in order before and after landing in Dubai. These include an updated passport, visa, birth, and educational certificates, proof of marriage, and employment offer where applicable. If you're moving with children, you'd also require their academic transcripts and school leaving certificates. 
Your passport must be valid for six months before your travel. Renewals can often take time in some countries, so it's best to arrange this in advance. 
Suppose you're moving to Dubai to work, and your employer sponsors you. In that case, you will require an official employment offer letter and contract. These will help get you the necessary work permit needed for your stay in Dubai. There may be lots of paperwork involved, so it's wise to get it all sorted quickly. 
Other essential documents include your driver's license, property papers, and ID from your home country. You will also have to look into canceling your current subscriptions and memberships and divert your post office address.
As a final step, ensure that you get all your documents attested by an authorized authority.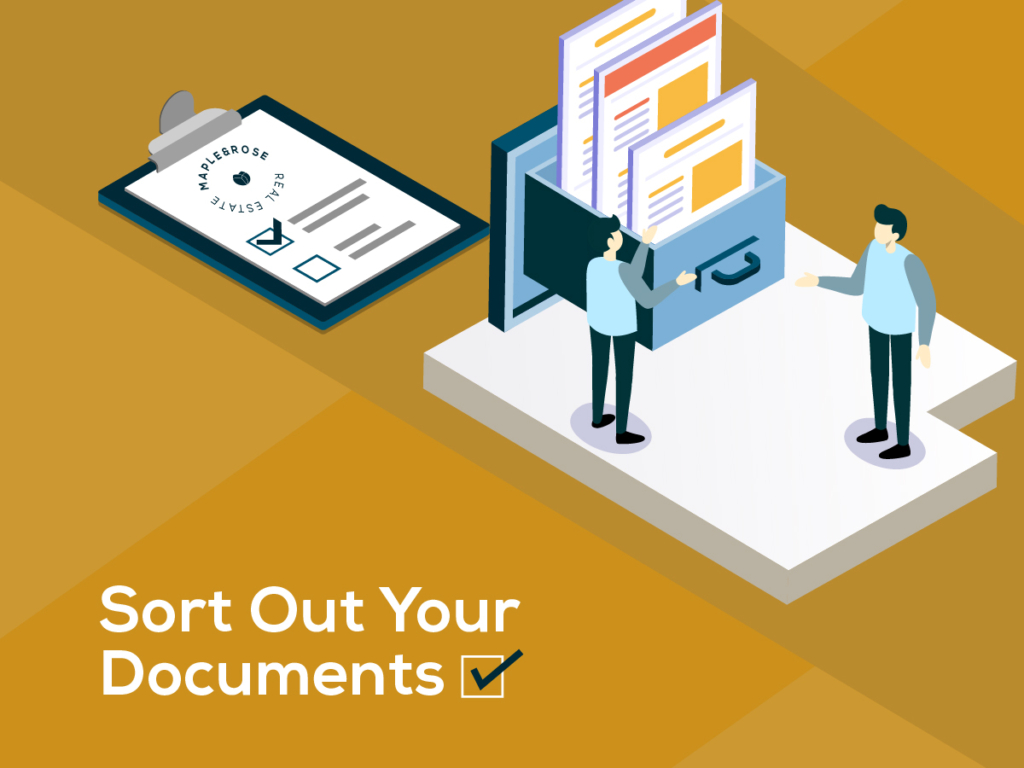 Arrange Your UAE Residence Visa
The second step on our moving to Dubai checklist is getting your visa. If you haven't already, initiate the process of obtaining your residence visa for Dubai. A residence visa is a long-term stay allowance that all expats and foreign nationals require to live in Dubai. 
A residence visa is a prerequisite for many things, like renting an apartment or villa. Usually, employers sponsor residency visas for overseas employees and cover the costs involved. You will have to check with your employer if this is possible.
Make a list of all the essential belongings you will take to Dubai and dispose of things you no longer need. Moving to a new place is the perfect time to declutter our homes and lives. Starting anew with a fresh perspective, we'll realize there are many things we've been hoarding for years that we won't require in our new home.
Generally, it's wise to not take belongings with you that will cost more freight charges than its actual value. International movers have various charges, so getting a quote for everything you need to move well in advance is best. Remember that international cargo takes about 8 to 12 weeks to reach Dubai.
Alternatively, you can opt for a semi-furnished or furnished apartment that will save you the hassle of buying new furniture and household appliances.
Another thing to consider for people moving from the United States and Canada is that Dubai's standard voltage is 220V. Unless you plan to use a converter, all your electrical appliances will be useless in your new country.
More importantly, UAE is a Middle East desert country with hot weather all year round. Especially for those coming from colder areas like North America and Europe, you must consider that the lowest temperature in Dubai doesn't go below 20 degrees Celsius in the winter. Summers are scorching, with temperatures soaring to 50 degrees. Thus you must leave all your winter jumpers and coats behind and pack light summer wear for your stay here. 
Thus, weather is an important consideration on our moving to Dubai checklist.
Get Your Vaccinations and Health Checks
As part of your visa process, depending on your country of origin, you will need mandatory vaccinations and health checks from a government-authorized health institution.
Such procedures ensure you don't carry any transmissible disease to the UAE. Further, if you come from a list of countries where certain health conditions are expected, like polio or malaria, you must get vaccinated for these before your arrival.
Getting your necessary vaccinations is an essential point on our moving to Dubai checklist.
It would be best to inform your local tax authorities about your relocation. At this point, they will let you know if you have any pending taxes to clear. Sort out your pending payments before your move to avoid future inconvenience.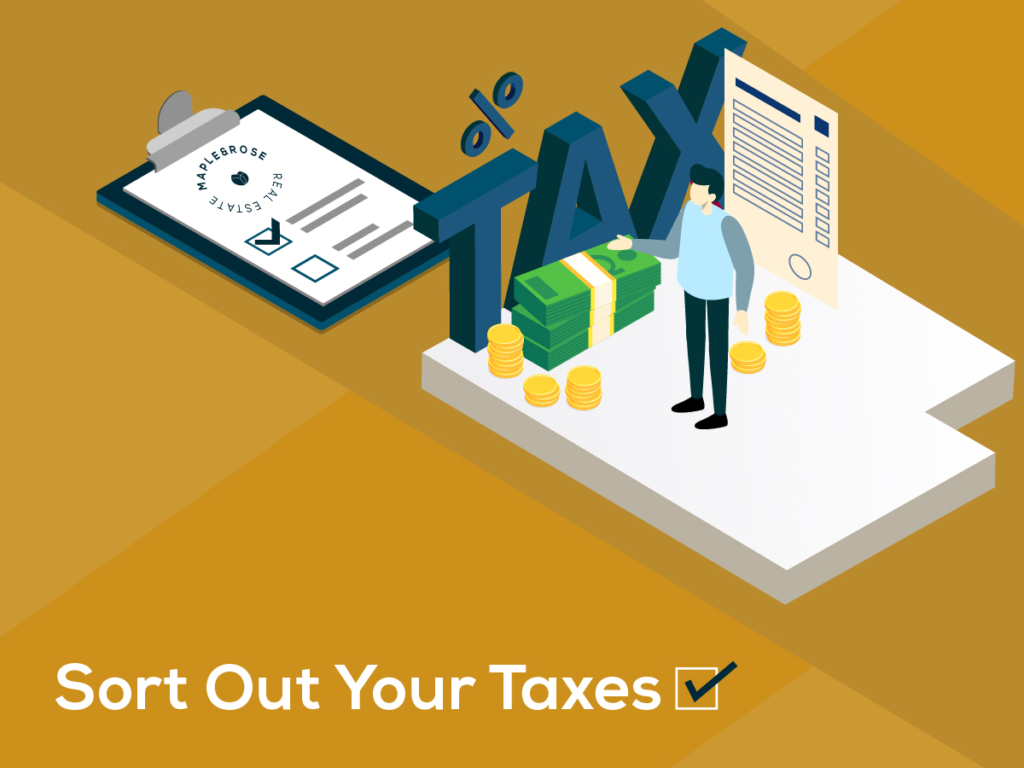 Dubai may be a land of economic opportunities and tax-free income, but the cost of living here is still high. It would help if you make a financial plan to deal with necessary expenses like accommodation, rent, groceries, utilities, bills, and school fees.
We'd recommend you make a relocation budget for yourself and stick to that, at least in the initial months. You may have to take your savings with you as a start-up cost to cover expenses upon arrival. To help figure this out, plan how much money you need to take with you and your monthly living cost.
Planning ahead and sticking to a budget will ensure you enjoy a comfortable life in Dubai by covering all your essential costs and saving extra for recreation and entertainment.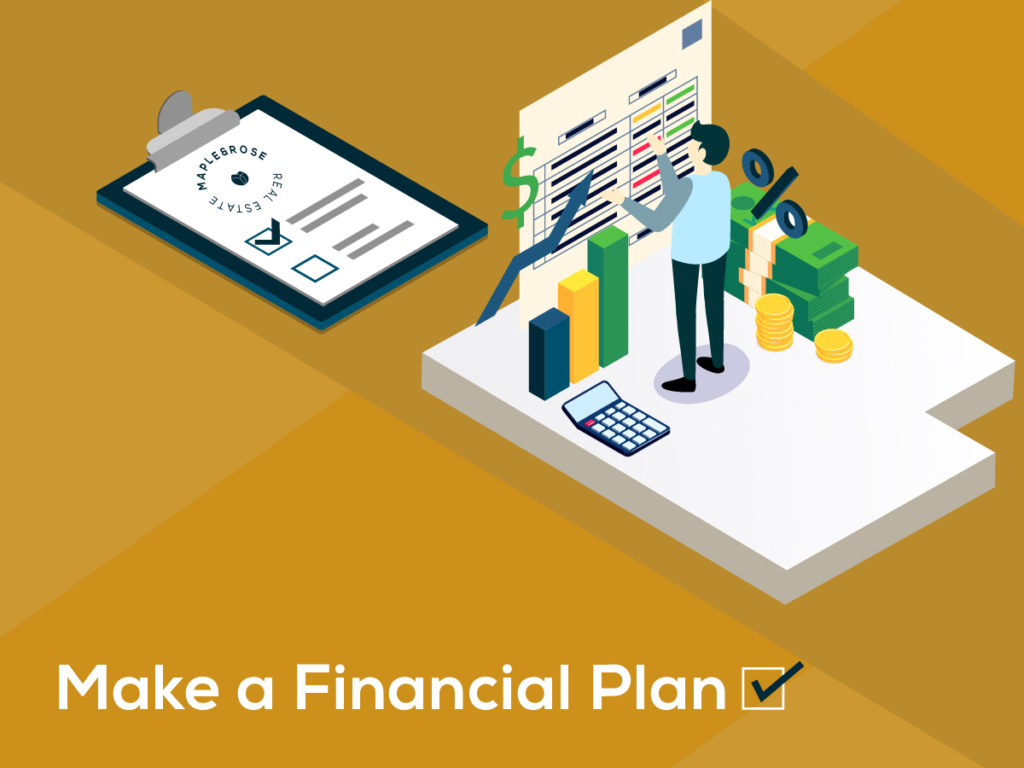 Book Your Flights to Dubai in Advance
Once you've figured out your moving time, start looking for flights to Dubai. Pre-booking flights are cheaper and will save you a lot of money. It will also do away with any last-minute booking stresses or issues.
Arrange for International Movers
Once you've sorted out your packing list and determined the household goods you want to move with you, select a moving company by getting quotes from several international movers and packers.
Charges of different companies vary, and you may want to account for the costs in advance. Thus do your research from an international movers network and choose a company that best suits you. Booking well in time is crucial, as international cargo can take up to 12 weeks to reach Dubai.
Find Accommodation and Get Your Tenancy Agreement Form
Now comes the part which can be both exciting and frustrating equally. Dubai has a tremendous variety of accommodation options suitable for all budgets and lifestyles. The possibilities are endless, from studios, apartments, villas in gated communities, townhouses, and luxurious mansions.
With such a variety, finding a new home that suits your budget and your feasibility can be challenging. We recommend you begin your house hunting early, ideally before arriving in Dubai. Otherwise, you'll incur extra costs for hotels or temporary accommodation.
When finding a place to call home, there are many considerations. The first thing to determine is whether you want to rent or buy property. If you're renting, you must remember to get your tenancy agreement form from your landlord. The tenancy agreement form has to be registered with the Ejari  system. Registering one's tenancy agreement form is a must for all tenants in Dubai. It can be done at any RERA office or authorized center.
The size of your family will also decide the type of accommodation you require, as will whether you plan to own a private car. Parking space is not always a given for all localities in Dubai, so you must consider this during your house search.
Dubai's extensive housing options offer a range of amenities like swimming pools and private gardens. Your lifestyle and budget can help you decide which residential unit and community to choose for our new home.
Whatever your budget, find the perfect new home for yourself and your family with Maple & Rose
As soon as you find accommodation, you will need a list of utilities to make it into a home for yourself and your family. Electricity, water supply, WiFi, and landline are some essential utilities you will require immediately.
Most housing units in Dubai often come with these utilities in place or are arranged by the landlord. Check with your landlord or building manager for details about what they can provide if your house still needs to be equipped with some of these facilities.  
Also, consider installing the DubaiNow App on your mobile devices to conveniently pay all your utility bills and other payments from one place.
Get Health and Travel Insurance
Two important insurance types you will need are travel and health insurance for yourself and those traveling with you.
Travel insurance will help cover you during your move to Dubai, so opt for a one-way travel insurance deal. Getting travel insurance early in your planning is better to avoid future inconvenience.
Health insurance is mandatory for all foreign and local residents in the UAE so try to get one of the best health insurance in UAE. Failure to obtain so can result in fines or refusals in visa extensions. Dubai has some of the world's best medical facilities and state-of-the-art equipment. To ensure you can avail of these premium facilities, you must have health coverage.
 In most cases, employers provide health insurance coverage as part of the employment package to their employees. Check with your employer for the same. If not, arrange your own health insurance at the earliest. Also, purchase an international health insurance package for your accompanying family members.
An Emirates ID is mandatory for all locals and foreigners living in the UAE. They must carry this ID with them at all times. The Emirates ID is a national identity card issued by the Federal Identity and Citizenship Authority (ICA) which is the main Emirates ID center.
The card contains a chip with all data linked to an individual, like their name, date of birth, gender, photo, nationality, and fingerprint. Each ID card has a unique 15-digit number.
You will require your Emirates ID for several important things, like buying property.
Not exactly a pre-arrival consideration on your moving to Dubai checklist, yet an essential task once you get here is opening a bank account. Once you arrive in Dubai, you'll need a local bank account to conveniently manage your finances and transactions. Opening an account is hassle-free, only it requires you to visit the bank in person for the same. 
Expats with a resident visa can open any bank account. As part of the procedure, they will need to provide necessary documentation like their passport, tenancy agreement, and employment letter.
Having an account in an international bank is even better, as you can use your current account with the same bank in Dubai.
Get Your Driver's License
If you plan to own a car or drive in Dubai, you will require a local driver's license. Alternatively, you can apply for an international driver's license in your home country and transfer it to Dubai. In some cases, permits from some countries are acceptable and transferrable in Dubai.
You can consult the drivers and vehicles licensing department at the RTA drivers affair website to ascertain whether you can use your old driver's license here. If not, be prepared to complete a round of driving lessons and pass a local driving test to obtain your Dubai driver's license.
Find Schools for Your Children
Another important to-do on our moving to Dubai checklist is finding schools for your children well in advance. If you plan to move with your children, finding good schools for them must be on your top agenda while relocating to Dubai. Private international English schools are the best choice for expat children.
Before arriving, look for an international academic school in your locality and explore all their offerings, curriculum, and facilities. With a considerable number of world-quality private and international schools, it can be mind-boggling to shortlist a few. The KHDA website is a useful resource to check out as it contains a comprehensive listing of all the schools in Dubai. There are also details about each school's ratings, instructional method, curriculum, and facilities.
Most reputable international schools run at full capacity and have long waiting lists. You may want to research in advance to avoid having your children out of school for longer.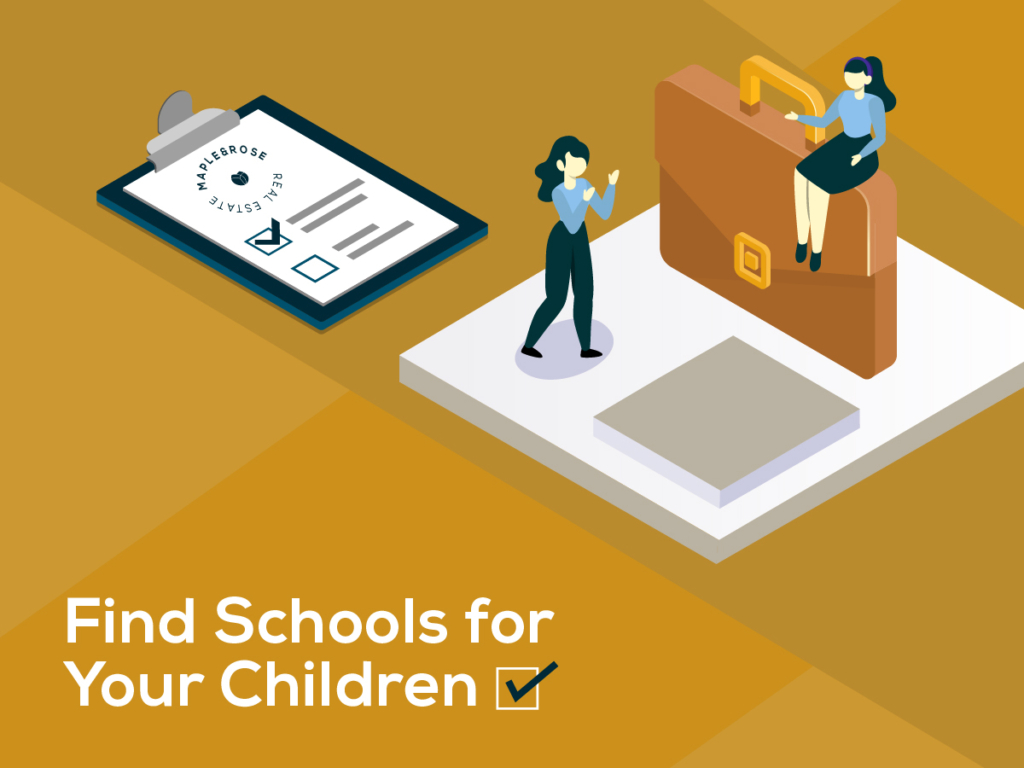 Though UAE's official language is Arabic, Dubai's 80% population comprises expats. With a city housing people of over a hundred nationalities, English has become the standard mode of communication in business and commercial setups. Many private schools have English-speaking teachers. Thus you don't need to be fluent in Arabic to survive in Dubai.
However, it will help you to learn a few basic and commonly used Arabic terms for smoother assimilation and integration with the local community. Knowing Arabic terms for words like sorry, thank you, and hello can go a long way in helping you make friends and adjust smoothly to your new community. Many might not consider learning Arabic as an essential to-do on their moving to Dubai checklist, yet we feel it can be quite beneficial. 
Make Your Move to Dubai Seamless and Hassle-Free
Moving to Dubai can be an exciting roller coaster ride of thrills, excitement, and anxieties. Being organized about everything you must sort out and planning in advance will save you a lot of trouble later.
Our checklist will prove instrumental in helping you put everything into perspective and streamline your relocation journey. It will ensure you make a stress-free, well-prepared, and well-informed move.
Frequently Asked Questions:
How much money do you need to move to Dubai?
For a comfortable living, you require enough money to cover all your essential costs like groceries, rent, utilities, and bills, and a little extra left to enjoy Dubai's vibrant city life. The cost of living in UAE will depend on your income. On average, your income should be at least AED 10,000 to 15,000 each month.
This amount can change depending on the size of one's family. Families with children have to account for additional costs of nannies, daycares, or school fees.
Can I move to Dubai with no job?
You can get a visit visa to Dubai, but you will require a work permit that only an employer can sponsor for a longer stay. The UAE has recently expanded its visa schemes to include a range of visa categories where you can stay in Dubai without a job offer.
The Golden Visa UAE is a long-term residency visa that does not require you to have a job here. There is also a Remote Work Visa Dubai, which allows you to work for your employer in your home country while living in Dubai. Other visa types which will enable you to stay in Dubai without employment are the Retirement Visa Dubai, Green Visa UAE, and permits for widows with children and people of marginalized groups.
Is moving to Dubai worth it?
Dubai is indeed a land of economic emancipation and luxury with its high wages and tax-free living. It has a surplus of world-class amenities, modern and developed infrastructure, and only a 5% VAT on goods and services. Topping it all is Dubai's low crime rate and a stringent yet meticulous law enforcement framework. All these aspects make Dubai a fantastic place to move to live or invest in.
Is Dubai a safe place for women?
Dubai is considered the seventh safest city in the world. Such a rating speaks a lot about the city's standard of safety and security.
Despite having a high male population, the city places a lot of emphasis on its female residents by allocating women-only zones in public spaces like the metro and building entrances. Women also receive special perks on ladies' nights at restaurants, spas, and clubs.
It's safe to say Dubai is a great place for the lone female tourist, the digital nomad, or a single woman looking to move here for a fresh experience.
View the latest properties for sale in Dubai from Maple & Rose.