Why should you upgrade your property from time to time? If you're aware of the common trend in the West where investors refurbish and renovate run-down or old properties and transform them into something new and modern, you'll understand the importance of property upgrades. Consequently, the investors are able to sell these properties for a much higher value than their original cost. What does that tell us about the magic of upgrading properties? It is a smart and efficient way of getting great ROIs through fast-track sales. We share below some quick tips to upgrade your property and help you ramp up its value.  
Luckily, this property renovation trend is catching up in Dubai, and investors gradually realize how important it can be in enabling them to quote sale or rental prices of their choice. If your Dubai property has been around for a while or has been lived in, consider renovating it before you lease it out again or sell it. Doing so will help you get a more profitable deal by commanding a higher price.   
Tips to Upgrading Your Property for Increasing its Re-Sale Value
Upgrading property primarily involves renovations to align it with current trends and up-to-date amenities. Upgrading your property gives it new life and makes it fresh, clean, and inviting. Check out these tips to upgrading your property for a quick makeover.
Upgrade Kitchen and Bathrooms 
According to research, kitchens and bathrooms are the most valued assets of a property and the ones buyers look at first when they go for a viewing.   
The condition of your property's kitchen and bathroom can make or break the deal. Thus, it is vital for these areas of the house to be functional, up-to-date, and immaculate. Consider necessary upgrades to these spaces by repairing any leaking faucets and pipes, getting plumbing work done, adding storage units, installing the latest fixtures and appliances, and any other cosmetic touches that can spruce up the place and breathe fresh life into them.   
Repaint Walls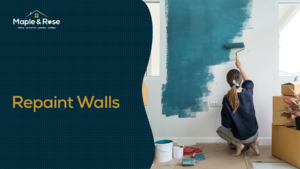 Going for a paint job on your interior and exterior walls is a cost-effective method of transforming your lived-in property into a brand-new one. Often with use, the paint fades, decolorizes, or stains giving the property a shabby appearance. There's nothing a fresh coat of paint can't fix, however.  
Repainting the walls acts like an instant mood lifter of the space and is also friendly on the pocket. If you're up for it, you can even indulge in trendy color palettes or wallpaper to give your property a unique feel.  
Add Storage Units and Fixtures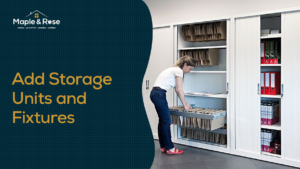 Adding storage shelves, spaces, and nooks is an instant step in increasing the price value of your property. Extra storage is always a welcome feature by home buyers or tenants and something they are willing to spend a few extra bucks on.   
You can attach storage units and nooks yourself by indulging in DIY or buying them from hardware stores. Either way, this will cost you little but will bring you greater returns.   
Renovate the Flooring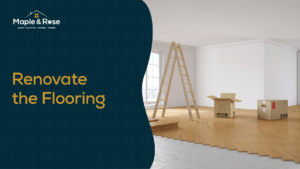 What is the first thing we set our eyes or feet on when we go to view a property? The flooring, of course. Your flooring should keep up with the current trends and definitely not be outdated and worn out.  
Modern floors not only jazz up the appeal of your place but boost its market value also. Large tiles, marble slabs, and porcelain flooring are highly sought-after and instantly make your property look upscale and expensive.  
Changing the flooring is a heavy investment compared to the other tips on upgrading your property on our list, but one that will reward you with fantastic ROIs unlike anything else.   
Do a Bit of Landscaping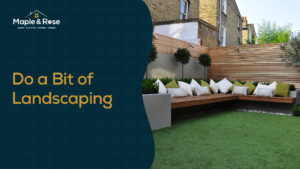 Landscaping  is a big yes amongst our tips to upgrading your property. If you're a villa owner, landscaping your property's exterior will be an instant game changer. It upgrades and revamps the appearance of your property like nothing else. If the exterior of the place is inviting and attractive, it will automatically make people curious about what's inside.   
Consider updating your curb or tiling and paving the garden. You can also redesign your garden and add fresh plants and flower beds. A well-manicured lawn is a winner when it comes to marketing your property to potential buyers. Alternatively, you can add a patio to bring in the 'wow' factor.   
Ready to Transform Your Property and Get a High ROI? 
These quick and helpful tips will transform your property and make it as good as new. These will enable you to demand a higher price for your property's resale or lease.   
Where it's fun to take charge of these renovations and upgrades to negotiate your price, you must seek an expert's guidance to ensure you get an excellent deal for your property.   
This is where Maple & Rose can help you market your property the right way and negotiate with buyers on your behalf. 
Get on board with Maple & Rose to sell your property in a smooth and hassle-free manner