If you've ever bought or sold a property, valuation is a term you must be familiar with. Property valuations are integral for mainly all kinds of real estate transactions, such as investing, buying, or selling. Below we discuss why property valuation is important, what factors influence it, and how it's different from property cost.  
As the name suggests, property valuation has to do a lot with the value of a property. It is important for an unbiased and transparent real estate transaction. So, what is property valuation, how is it done, and why is it necessary? Let's find out.  
What is Property Valuation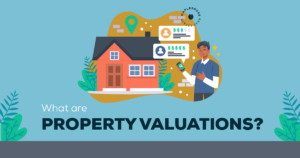 Property valuation is an assessment of a property's true value. It is determined by a range of factors that are permanent features of the property. Thus, temporary and changeable aspects like furnishings are not accounted for when assessing the property's value.  
After the detailed valuation process, the surveyor or person in charge of the valuation presents their assessment in a detailed report.   
It is pertinent to mention here that a property's " value " differs from its " cost. " Value accounts for many things, whereas cost is the monetary amount that the seller decides to sell for or the buyer has to spend to acquire the property. However, the cost can influence the property's value and is thus an important determining factor.   
Why is Property Valuation Important 
If you're looking to sell or buy a specific property, getting it properly evaluated is necessary. There are several reasons for this. Before you proceed with your transaction, it is essential to research the real estate market trends for your area and determine the actual value of your property. It will place you in a better position to negotiate prices and pay or sell for the rightful amount of the property.  
Through the valuation process, one gets familiar with Dubai's current market trends. Property values fluctuate with the market trends, so a recent and up-to-date report that reflects an accurate and objective value of your property is essential.  
Here are some of the benefits of getting a valuation:  
It prevents you from paying more than the property's worth. 

 

It helps resolve and settle legal property disputes. When any dispute is taken to court, a valuation report is required before a settlement can be made. 

 

It aids the buyer in getting a loan. If a buyer is using their property as security against a loan from the bank, the property must have a valuation report. 

 

Valuation is also important in assessing the viability of potential development projects. 

 

Most importantly, it helps in evaluating a property's income-generating potential. 

 

It helps understand market trends. 

 

A valuation report provides a holistic picture of a property's plus points and drawbacks. 

 
What is the Property Valuation Process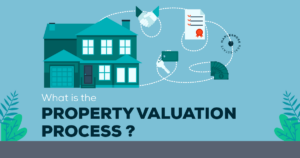 Property valuations are detailed processes that surveyors and qualified experts do. These have to be done in an unbiased, professional, and objective manner. The surveyor has to be appropriately certified and registered with the Royal Institute of Chartered Surveyors (RICS) and the Dubai Land Department (DLD).   
The entire process can be broken down into three stages.   
First Stage  
The first step in the valuation process is a due diligence check. This also involves carrying out a conflict-of-interest check. As the authenticity of the valuation is based on complete transparency and objectivity, it is essential to rule out any conflict of interest. Also, during the initial stage, the surveyor analyzes the preliminary information received about the property by the owner.  
Second Stage 
During the second phase of the valuation process, the surveyor inspects the property in detail and notes its condition, location, upgrades, and other similar criterion. Detailed research is conducted where property transactions in the same area are compared with market trends.   
The surveyor does all this by researching and comparing data from several authentic sources, such as data provided by the DLD, one provided by seasoned brokers, and other internal and external sources.  
Third Stage 
In the third and final stage, all findings, analysis, and data are collated into a thorough, in-depth report. As a last step, an RICS-certified senior supervisor does a quality assurance check of the report to verify its accuracy and transparency.  
Factors That Affect the Property's Value 
A range of factors determine the true value of a property. These are:  
Condition of the property; a well-maintained and well-kept property is of more value as opposed to a neglected or run-down one 

 

Size of the property; larger units are more valuable than smaller ones unless other factors like location affect the value.  

 

Commercial vs residential; properties that lie in commercial zones are of greater value 

 

Income potential; the income-generating potential, such as the rental yield of a property, determines its value. Properties with a higher income potential will be of greater value. 

 

Location; some locations are more expensive than others, directly impacting the price and value of properties in that area. 

 

Market trends; the sales transactions trends of an area also influence the value of a property. 

 
Choose the Best Property Valuation Service in Dubai 
When choosing a valuation service in Dubai, one must consider a few fundamental aspects. For starters, the service provider you select must be licensed and registered with the RICS and DLD. Secondly, they should have extensive experience in property valuations.   
Also, go over their project portfolio to assess what kinds of properties they have valued before. The more experience and the broader range of properties in the portfolio, the better.   
Something as essential and instrumental in your real estate transaction as a property valuation must be taken seriously and carried out by a thorough, certified, and unbiased professional. We at Maple & Rose qualify and fulfill all these requirements and pride ourselves on providing one of Dubai's most authentic, in-depth, and transparent property valuation services.  
Get in touch with us to get the best property valuation services