Real estate is one of Dubai's biggest and rapidly growing industries. It's booming at a record pace in 2023, with massive urban development projects underway. The sector accounts for its efficient running and success to a rigorous framework of rules and regulations set in place by the legal authority called Dubai Land Department. This organization is responsible for drafting and overseeing the laws governing Dubai's real estate sector. However, constant revisions and updates are made to these laws with changing times and market demands. Today we'll explore Dubai's property and real estate laws in 2023.  
Dubai's Property and Real Estate Laws in 2023 
If you're buying or investing in property in Dubai, you must get familiar with the laws and regulations of its real estate industry. Acquainting yourself with these will fetch you a hassle-free experience free of unwanted surprises.   
Without further ado, let's get into it.  
Property Ownership Law for Foreigners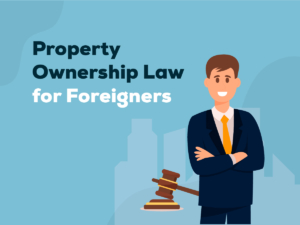 One of the major laws governing foreign property ownership is Real Estate Law number 7. This law was passed in 2006 and holds today. It pertains to the allowance of foreigners and non-residents to buy and invest in property in Dubai. Before this rule was officially passed, expats couldn't own property in the Emirate. Law no.7 aimed at relaxing these restrictions by enabling anybody with the principal amount to buy property in Dubai. This move was initiated to encourage foreign investors to pour their money into the city to contribute towards Dubai's progression and growth.   
Now, expats and foreigners are free to buy a property and hold title deeds of the same in their own name. They can lease or rent a property for up to a period of 99 years in specially designated areas called freehold zones.   
Rental Property Laws in Dubai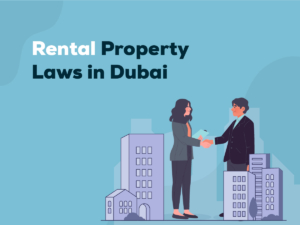 Are you looking to rent a property and not ready to buy just yet? Dubai has a whole system of tenancy laws designed to supervise all landlord-tenant transactions and protect tenants' rights. The Dubai rental property market is a lucrative industry with high rental yields. Whether you want to rent or become an owner and rent your property to others, you must familiarize yourself with these regulations.   
Here are the salient features of Dubai's rental laws.  
A tenancy contract must be signed for at least one year and no less. 

 

The landlord cannot increase the rent at will and can only do so according to the instructions laid down by RERA. 

 

Rental costs increase cannot exceed more than 15% at a time. It can only be implemented when the contract finishes or is renewed.  

 

Any conflicts or disputes must be taken to the designated authorities for a solution. 

 
Property Inheritance Laws 
In the case of foreign landlords, the inheritance law for Dubai properties is a bit complicated in that it needs to align with the laws of the landlord's home country. If the landlord is a dual citizen of two countries, one of which is not the UAE, then the inheritance policy becomes even more arduous.   
In the scenario of dual citizenship, the inheritance rules of the country most aligned with the UAE's legal system will be considered. It is imperative that the property be assigned to its lawful beneficiaries. Such information must be drafted in the person's legal will if they are non-resident. In the absence of such a legal document, the court decides whether the states owe the deceased's property or if it should be divided among the beneficiaries.   
Other Real Estate Laws by the DLD 
Apart from these primary property laws, there are numerous other real estate rules that are put in place by the Dubai Land Department (DLD). Below, we look at a few common ones.  
Regulations Overseen by the Dubai Land Department (DLD) 
The DLD is the legal organization responsible for overseeing all real estate matters in Dubai. It drafts rules and regulations for real estate transactions and ensures these are implemented thoroughly. Here are some of the main areas the DLD regulates directly:  
Rental price increase 

 

Resolving rental disputes 

 

Approving DLD's own fee for different real estate transactions and processes 

 

Allowing title deeds on allocated industrial and commercial land 

 

Settlement of cheque disputes related to a real estate transaction 

 

Regulating tenant-landlord relationships based on rules set by RERA 

 

Designating areas for foreign ownership 

 

Broker registrations 

 

Property registrations 

 
Dubai Strata Law 
The Strata Law applies to multi-unit developments like residential apartments and townhouses. The law specifies rules about the division of the property into private units and co-shared spaces or common areas. Maintenance and upkeep of the common areas become the responsibility of an owners' association. The Strata Law therein spells out rules for the association pertaining to the running of these common areas. These include repair work, upkeep, and access to facilities.  
Three Broker Law 
The Three Broker Law was passed in October 2022. According to this, sellers are limited to listing their properties with a maximum of three brokers only. This was done to avoid duplicate listings and encourage exclusive listings with brokerages in their place. These enable brokers to provide personalized, dedicated customer services to their clients.  
Law for Brokers 
A separate law has been established for all brokers conducting business in Dubai. According to this, all aspiring agents or brokers must undergo certified agent training by the Dubai Real Estate Institute and pass a RERA exam to be able to practice in Dubai.  
The broker laws and regulations also apply to the agents even after training and RERA exam clearance. It governs how they do business, client interactions, and real estate transactions.  
Law for Developers 
Real estate developers are not exempt from a rigorous ethical and legal framework. According to the law established for developers, each builder must obtain an official license from a relevant authority before commencing the construction of a new project.   
The developers must provide detailed project details such as the number of units, location, property types, square footage, etc. As per RERA's laws, the developer also has to maintain a separate transaction account where buyers send their payments for the project. This is done to ensure that all amounts paid are allocated for the completion of the project only.   
Wrap Up
Dubai's property and real estate laws are strict, rigorous, and carefully implemented by official authorities. These laws are significant factors behind the transparency and efficiency of Dubai's highly advanced real estate industry.   
These essential laws protect investors, tenants, and all other stakeholders of real estate transactions. Understanding these will help you safeguard your interests, whether buying, selling, or renting property.  
Whether you're looking to buy or sell properties in Dubai or looking to rent, our certified and licensed agents have the right solutions for you.
Frequently Asked Questions 
What happens to a leased property after 99 years? 
Although the UAE government allows foreigners and expats to purchase property in the Emirates, the buyer only obtains ownership of the unit and not the land itself. They can lease or rent property in freehold areas for a lease period of 99 years. Once this period ends, the property is returned to the freeholder.  
How long can you stay in Dubai if you own a property? 
Foreigners are eligible for a resident visa upon purchasing property in Dubai. This visa is valid for up to 2 years and is renewable as long as you own the property.  
What are the rules for owning property in Dubai? 
Since the UAE government relaxed its property ownership laws in 2006, non-residents and foreigners are allowed to buy and own property in Dubai. They can choose from a range of prime properties in designated freehold zones. Most popular districts in Dubai, like Dubai Marina and Business Bay, are freehold zones.   
What are the benefits of having a property in Dubai? 
Dubai offers competitive property prices and superior rental yields compared to other major cities like London, Paris, New York, and Singapore. It has relaxed taxes, meaning you don't have to pay wealth or property taxes. Owning property in Dubai also makes you eligible for a long-term resident visa, which is renewable and unconditional.