Dubai is considered by many as an ideal place to raise a family. Rated as the seventh safest city in the world by the global data website Numbeo, Dubai provides a perfect and balanced city for families to thrive in. Many reasons are credited to this, with low crime rates and high quality of life being the top two reasons.  
Through our blog, we will explore all these and other reasons that make this global city a magnificent family-friendly place to live in. We'll also address the top question on potential immigrant families' minds, i.e., what are the absolute best neighborhoods to consider when moving here with your family, especially young and school-going children. 
Let's get into the list of the top 7 communities without further ado. Before that, let's explore all that Dubai offers in terms of amenities and lifestyle to families. 
What Makes Dubai an Ideal City for Family Living?
The famous Emirati city is a well-developed and planned network of premium residential communities, a top-notch transit system of subways and roads, prestigious educational institutes, healthcare, and recreational spots.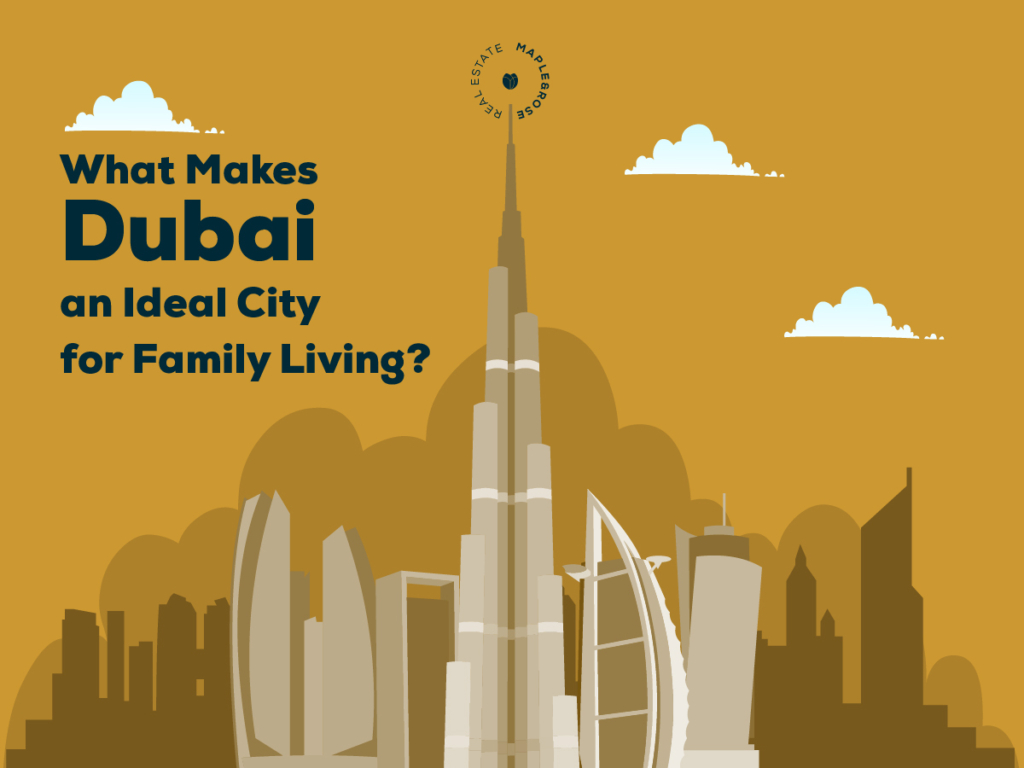 With its many green spaces, oasis settings, and natural parks, one can be forgiven for forgetting that it's a desert city. Dubai is a highly sought-after destination for families with children due to its extensive entertainment events and places like ice skating rinks, sports complexes, aquariums, parks, and more. 
Dubai's well-planned villa communities and residential apartments are picture-perfect for families as these have the right amount of space, privacy, and amenities like parking spaces, private gardens, and swimming pools. 
The World Safety Index, Numbeo rated Dubai the seventh safest city in the world. Its low crime rate and efficient legal system are contributing factors to this. 
The following are the main aspects that make Dubai an ideal place for family living:
Safety and Security

 

Premium healthcare facilities

 

Affordable international schools and nurseries

 

World-renowned colleges and universities

 

Low property prices

 

A great expense versus income ratio

 

Tax-free living

 

Abundance of affordable nannies and tutors

 

Excellent transit system comprising metros, taxis, Ubers, and buses

 

Family-friendly gourmet restaurants

 

Beautiful beaches and amusement areas

 

Global and seasonal recreational events

 

Great weather all year round

 

Assortment of the best supermarkets, green spaces, malls, and retail outlets

 
Top 7  Residential Communities in Dubai for Families
If you thought Dubai Marina, Downtown Dubai, or Al Barsha were the only family–friendly neighborhoods of Dubai, then you're in for a surprise. 
When searching for a neighborhood for living in Dubai with your family, there are many essential factors to consider. Availability of good schools and daycares, proximity to supermarkets and hospitals, easy access to crucial city locations, and green spaces for children to enjoy outdoor activities are just some of the things that come to mind. 
To help you in your house search, we have listed the top residential communities that offer the best of all these and other amenities to ensure you find a beautiful place to call home. 
#1 Arabian Ranches
Away from the hustle and bustle of the city, Arabian Ranches is a quiet, peaceful suburb of Dubai. It has large spacious villas catering to mid to large-sized families. A project by Emaar, Arabian Ranches is a community of freehold villas and townhouses. 
Arabian Ranches is divided into three sub-communities: Arabian Ranches I, II, and III. The properties are built in a fusion of Mediterranean and Arab architectural styles. Each residence comes with a garden and a private parking space. 
Despite being slightly away from the main city center, the community hosts several community events like fairs, outdoor markets, and bar b q's. 
Facilities
Tennis and basketball courts

swimming pool

green spaces

 

Supermarkets, pharmacies, restaurants

 

Community and medical centers

 

Gold Club

 

Polo and Equestrian Club

 
Schools
Jebel Ali Village Nursery

 

Ranches Primary School

 

Raffles Nursery

 

Jumeirah English Speaking School

 
Access
Arabian Ranches is located between Emirates Road and Sheikh Zayed bin Hamdan Al Nahyan. It provides easy commute options to major places of the city like Business Bay, Dubai Mall, and Dubai Media City. 
Cost
2 to 7-bedroom villas are available for sale and rent at Arabian Ranches. The starting sale price for these villas is AED 2M. 
For rentals, the starting price of 3-bed villas is AED 180K per year, for 4-bed villas 195K per year, and for 5-bed villas, the minimum fee is 310K per year. 
Prices are subject to change depending on the market situation.
#2 Emirates Hills
Emirates Hills is often considered the Beverly Hills of Dubai due to its opulent lifestyle, luxurious amenities, and celebrated influential residents.  
The gated community is Emaar's first freehold developmental project. Similar to Damac Hills, it is considered a haven to reside in and raise a family. With its lush landscaping overlooking lakes and golf courses, and politicians and famous businessmen as neighbors, Emirates Hill is a favorite hotspot for the well-to-do. 
Emirates Hills' exclusive lifestyle and amenities have a lot to offer its residents, especially those with young children. Its expanse of open green spaces and clean air provides children and adults with lots of areas to enjoy outdoor activities. 
Facilities
Swimming pool

tennis and basketball courts

 

Gated community

 

Parks and green spaces

 

Pet-friendly

 

Retail outlets

 

Golf Course

 

Bar B Q areas

 
Schools
Dubai British Schools

 

DIA Emirates Hills

 

Dubai International

Academy

 

Raffles Nursery

 

Dewdrops Nursery

 
Access
Emirates Hills provides easy access to Sheikh Zayed Road via car or bus. It also has metro access with nearby Sobha Realty and Al Khail stations. 
Cost
Emirates Hills has spacious 2 to 8-bedroom villas for rent or purchase. The starting sale price for these is AED 15M, while rentals for a 5 to 7-bedroom villa start at a minimum asking price of AED 1600K annually. 
Prices are subject to change depending on the market situation.
#3 Dubai Hills Estate
 Dubai Hills Estate is another off-plan development project by Emaar. Its highlight is its sustainably constructed residences, ideal for families with school-going children. 
Like Al Barsha, it is a fast-expanding neighborhood that's gaining a lot of popularity, Dubai Hills Estate has many amenities and convenient access to offer its residents. 
Facilities
Open green spaces

 

Golf course

 

Parks

 

Retail outlets

 

Hotels and restaurants

 

Running and cycling tracks

 

Tennis courts

 

Dubai Hills Park (with an ice rink, a skate park, a splash park, and a mall)
Schools
GEMS International School

 

GEMS New Millennium School

 

GEMS Wellington Academy

 

Blossom Nursery

 
Access
Dubai Hills Estate is located in Mohammad Bin Rashed City and is close to Sheikh Mohammad Bin Zayed Road and Al Khail Road. You can easily access major areas like Business Bay, Burj Khalifa, and Umm Suqeim by car. Two metro stations of the pink and purple lines are also located here. 
Cost
The community offers several spacious 3 to 8-bedroom villa residences for sale and rent. Purchasing price starts at AED 3M, whereas rentals for a 3 to 7-bedroom villa start at AED 1500K per year. 
Prices are subject to change depending on the market situation.
#4 Palm Jumeirah
Palm Jumeirah is part of an archipelago of artificial islands on the coast of the Persian Gulf. Truly a marvel, Palm Jumeriah is a quintessential beachfront development shaped like a palm leaf. If you crave a waterfront ambiance but are not willing to settle for Dubai Marina, then this is your best bet. 
The artificial island structure offers luxurious state-of-the-art, family-friendly apartment complexes. These units are the perfect blend of luxury, comfort, and style. The beauty comes with a price tag, but the range of amenities and lifestyle it provides is unparalleled to any other community in the city. 
Unlike Jumeirah Beach Residence, Palm Jumeirah is not just a residential community but a complete island lifestyle, together with its oceanic ambiance, separate monorail, world-class resorts and hotels, eateries, boutique cafes, and shops, as well as excellent schools and children's recreation spaces. Thus, making it a favorite neighborhood amongst the expat community in Dubai. 
Facilities
Monorail

 

Shopping Centers

 

Amusement and Splash Parks

 

Fantastic beaches

 

Resorts and cafes

 

Supermarkets

 

Healthcare

 
Schools
Dubai College

 

GEMS Wellington International School

 

American School of Dubai

 
Access
The island is connected via monorail to the mainland with a further extension to the Red Line of the Metro. It can also be reached via car. 
Cost
The average sale price for a 2-bedroom apartment is between AED 2.5M to 3M while the yearly average rental price starts at AED 250K per year. 
Prices are subject to change depending on the market situation.
#5 Jumeirah
 One of the oldest residential districts of Dubai, Jumeirah is a well-developed community that is very popular amongst the expats. Its proximity to the famous Jumeirah Beach adds to its allure. At the same time, its European-style pavements and spaces provide the ideal place to stroll around and enjoy the outdoors. 
Villas at Jumeirah come with large gardens, private pools, and a parking space. On the flip side, though, Jumeirah is not a freehold zone; thus, these residential properties are unavailable for sale to expats. Yet rentals are quite popular and in demand throughout the area as Jumeirah provides the perfect location to raise a family and enjoy the outdoors. 
Another significant aspect of Jumeirah is its peaceful and quiet ambiance despite being close to the city. Residents here thus enjoy the best of both worlds. The area is divided into zones; Jumeirah 1, 2, 3, City Walk, and the Jumeirah Bay Islands. It houses a variety of property options, including apartments, spacious townhouses, and villas. 
Facilities
Premium Healthcare

 

Places of worship

 

Proximity to popular sites like Madinat Jumeirah, La Mer, and Kite Beach

 

Parks, malls, restaurants

 

Seasonal celebrations

 

Boutique cafes

 
Schools
Jumeirah College

 

King College

 

GEMS Jumeirah Primary School

 

Jumeirah Baccalaureate School

 
Access
The residential community is built along the coastal area and is close to nearby Jumeirah Beach. It is well connected via all modes of transport, such as car, bus, and metro, to major city localities like Downtown Dubai, Dubai Creek, and Dubai International City. 
Cost
Rentals at Jumeirah for a 2-bedroom apartment start at AED 60K per year, while rentals for 2 to 3-bedroom villas start at AED 110K to 120K per year. 
Prices are subject to change depending on the market situation.
#6 Mirdif
Another popular residential community in Dubai, Mirdif, is quite popular with families. Its European-style architecture provides spacious accommodation options at a lower price tag compared to other high-end localities. Yet like other popular residential communities like Al Barsha, Downtown Dubai, and Dubai Marina, Mirdif doesn't fall short of offering its residents the best of schools, healthcare, and other amenities. 
Mirdif is divided into three sub-communities: Uptown Mirdif, Shorooq, and Ghoroob. However, the area, except for Mirdif Hills, is not freehold. That means expats cannot buy property here and only rent. 
Facilities
The famous Mushrif Park which houses a botanical garden, an equestrian center, a swimming pool, a play area, Global Village, and landscaped gardens

 

Basketball and volleyball courts

 

Children's play areas

 

Healthcare

 

Supermarkets

 

Mirdif City Center with retail stores, entertainment zones, an indoor skydiving center, cinemas, a food court, and a gym

 
Schools
Small Steps Nursery

 

Uptown International School

 

Star International School Mirdif

 

Emirates Nursery

 
Access
Mirdif is located in the vicinity of the Dubai International Airport. It is right next to Sheikh Mohammad bin Zayed Road. The nearest bus stops are the Mirdif City Center, and Golden Gate Mall stops. 
The community is also close to famous places like the Dubai Festival City, Academia City, and Deira City Center. 
Cost
Mirdif offers its residents an array of residential options, including studios, apartments, townhouses, and villas. 
Sale prices for apartments begin at AED 660K, while for villas, a minimum price starts at AED 2.4M.  
Rentals are a more popular option in most of Mirdif, where the yearly rental cost for a 2 to 8-bedroom villa starts at AED 55K, for 2-bedroom apartments at AED 48K, and for 2-bedroom townhouses at AED 55 K. 
Prices are subject to change depending on the market situation.
#7 Al Barari
Al Barari is one of the greenest and most eco-friendly neighborhoods in Dubai. It is the ideal residential community for nature lovers who want to thrive in a lush green, peaceful, and scenic environment. 
A flagship project of Abwab Real Estate, Al Barari is a secluded sanctuary focused on providing clean, green, and sustainable living to its residents. 
The unique residential development is an amalgamation of luxury and sustainability with an array of housing options like apartments, villas, and mansions. Due to this, prices at Al Barari are more premium compared to other localities. 
Facilities
Parklands linked through a waterway

 

Privacy and seclusion

 

Foliage

 

Away from city noise and pollution

 

Spa and health club

 

Sustainable, eco-friendly living

 

Plant nursery

 

Cycling track

 

Playground

 

Restaurants

 
Schools
GEMS First Point School

 

King's School Al-Barsha

 

Kids Spot Nursery

 

Daffodil Nursery

 

Dune Crest American School

 
Access
Al Barari is located off Sheikh Mohammad bin Zayed Road and is adjacent to the intersection of Al Ain Road and Sheikh Mohammad bin Zayed Road. Unfortunately, the community is far from metro or bus stations, so a private car is essential to get around. 
Cost
Rentals for 5 to 7-bedroom villas at Al Barari start at a minimum cost of AED 800K per year, whereas the purchase cost of these villas starts at AED 8M to 9M.
Prices are subject to change depending on the market situation.
Find the Ideal Neighborhood for Your Family
Dubai promises its residents several significant benefits. A healthy premium environment to raise a family in is one of these. Shortlisting choices, however, can be challenging when you have so many attractive options to choose from. Prioritizing features like schools, healthcare, and parks becomes a tough job.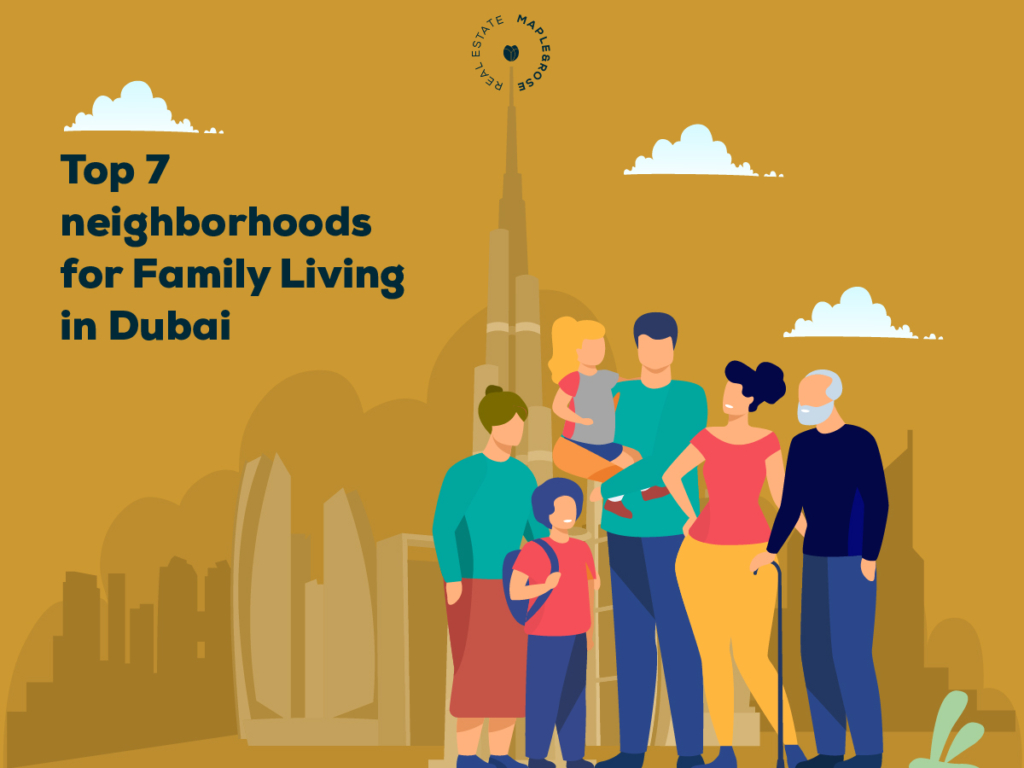 Fortunately, our comprehensive list of top family-friendly neighborhoods of Dubai will facilitate you in finding the best area to bring your family to when you move to Dubai. With world-class amenities, sustainable living, excellent schools, and lots of open green spaces to thrive, play, and grow, these residential communities are perfect for building beautiful memories. 
Find the ideal home for your family with Maple & Rose Real Estate.