Are you a property owner looking to sell your Dubai property? The real estate sales process can sometimes be cumbersome, where some sellers rush to sell quickly, and others wait too long for the ideal offer. Yet between these two selling do-nots, several other mistakes can dampen your sales. Thus, we bring you a list of the top 7 mistakes to avoid when selling your Dubai property.  
A little guidance and assistance go a long way in securing you a good deal with satisfying returns and minimum complications. So, if your property has been sitting idle for too long and you're unsure why, read on to identify some typical sellers' mistakes you might be making.  
Mistakes to Avoid When Selling Your Dubai Property
1. Overpricing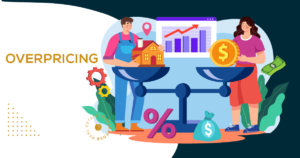 One of the typical errors most property owners make is overestimating the value of their property. Overpricing is thus the number one spot on our list of common mistakes to avoid when selling your property.   
The recommended approach is to conduct a thorough market analysis of property prices in your area. A real estate agent can help do this analysis for you and provide you with a complete market report and property valuation to ascertain the right selling price for your property.  
The expert guidance of a specialized agent helps you get a realistic price estimate and determines the right marketing strategies for your property.   
When setting your price, remember not to come across as a desperate seller and leave room for negotiations. Buyers can smell your desperation from a mile, and being realistic and flexible with prices will only establish a quick and smooth sail of your property.  
Let Maple and Rose take the hassle of price assessments off your hands and handle all your property sale needs.  
2. Not Renovating/Upgrading Your Property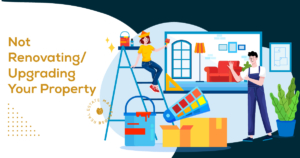 Above everything else, your property should be in a presentable condition and enticing enough for the buyers to want to move in quickly. To make your property sale-ready, especially if previously occupied, you must carry out various repairs and maintenance.  
Fresh coats of paint, polishing woodwork and furniture, having the doors and windows cleaned and running, and ensuring all the fixtures and appliances are in a workable condition are some of the top considerations for renovation work. If there are any electrical or plumbing issues, get those out of the way.  
Sometimes you may need to adapt and upgrade your property with the changing market demands and buyers' requirements. For instance, you may need to upgrade your kitchens and bathrooms or add extra storage or a patio. Such upgrades to your property will help you fetch a great price. Remember, the more attractive, comfortable, and up-to-date your property, the more price it will sell for.   
 Buyers prefer a property that is ready to move in and feels clean and well-maintained. If you feel this may be too much effort for you, hire the services of a professional property manager to supervise the maintenance of your property. Failure to renovate a property is thus at the second spot on our list of mistakes to avoid when selling your property.  
3. Using Multiple Agents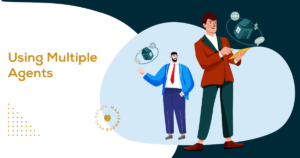 Contrary to popular opinion, listing your property with multiple real estate agents not only slows down the chances of a quick sale but also creates confusion and miscommunication. This is because multiple listings lead to varying information about your property with each agent. That also sometimes includes different selling prices.  
When you work with more than one agent to sell your property, you don't get the dedicated time and effort of any single agent towards securing a quick sale. It could actually take longer, as incentives of the commission are vague for each party involved. Added to this is the lack of active communication between the seller and the agent to avoid confusion and misunderstandings about property details and prices.  
Hence it's best to establish a good working relationship with a single agent or real estate firm that can dedicatedly pursue a good deal for you and help market your property professionally.   
Please read our blog on the benefits of an exclusive listing to learn more about what you can expect when you choose to work with a single agent.   
4. Wrong Location of Property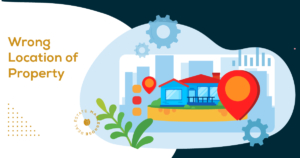 The location is an essential consideration on our list of common mistakes to avoid when selling your Dubai property. Sellers often assume that the condition of their property is enough to secure them a great sale—the area or location where your property is matters equally, if not more.  
Ideally, if your property is in an area popular with residents and high in demand, you're lucky of the lot as you will never find yourself short of potential buyers (provided you keep other factors like pricing in check). Areas that have many amenities for residents, like schools, hospitals, parks, retail, and entertainment options, are always preferred by buyers.   
On the other hand, an area that is remote or devoid of such facilities may have few interested buyers who would want to avoid the long commutes to get to a significant landmark or facility.  
The availability of public transport and good road network access also ensure the popularity of a locality. Don't buy properties to sell in areas that are remote or under-developed as you might have to wait a long time before any interested buyer shows up.   
Also, remember, if your property is in a good location, you will be on a playing field to negotiate a selling price to your benefit and fair better in the market competition.  
5. Not Arranging Proper Viewings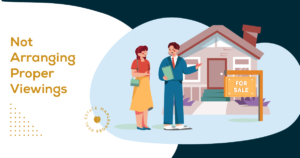 You know your property is amazing. How will you tell the same to the buyer? Client viewings are your chance to show the greatness and value of your property to the buyer.   
Firstly, if tenants already occupy your property, you will need to inform them of the viewing in advance. Then you'd have to confirm with them that the unit is clean and presentable. If the property is vacant, ensure it is well-lit, air-conditioned, and well-staged. That way, the potential buyer can view your property not just as a concrete structure in the market but as a potential home with its' own personality.   
As a seller, be open and flexible towards client viewings, as these are your chance to fast-track your property's sale. Be ready to say yes to the viewings whenever the buyer decides to. If your property is unoccupied, you may want to leave the keys with the broker to facilitate the viewings as and when required.   
Ill-arranged viewings are a total no-no on our list of common mistakes to avoid when selling your property.   
6. Rushing or Procrastinating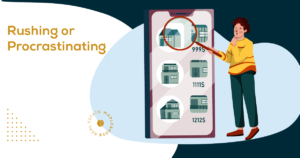 They say it's good to be cautious and not hasty when making significant sales decisions. Yet procrastinating for too long will also do you no good and end up costing you the loss of a good sale offer. Thus, be flexible and consider the offer if you feel it's good and at par with the market rate. Waiting and waiting and not taking a decision will only delay the sale of your property, leading to property depreciation and a decrease in property value. Buyers are suspicious of properties that have been sitting vacant for too long.  
At the same time, don't rush to sell quickly to the next available buyer. Wait it out and let a few offers come your way. Compare the offers against the market rate. Never appear too desperate to the buyer. Also, ensure that you take your time to do the required sale documentation.   
Eventually, your course of action will depend on your initial reason for selling, whether it's personal, a business investment, or something else.  
7. Not Fulfilling Your Financial Obligations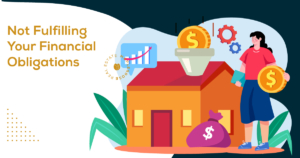 Something that can seriously dampen a good sale is the mismanagement of the financial payments that are due to each party. As a seller, you must keep your end of the bargain, i.e., pay the dues and charges of the property transfer, settlement fee, and the issuance of the NOC. Delaying or mismanaging your financial responsibilities is hence another important consideration on our list of the top mistakes to avoid when selling your Dubai property.  
By engaging the services of an authorized and certified real estate agent, you can plan for such payments with ease. The agent will give you a breakdown of what and when you have to pay to help navigate a smooth property handover and sales transaction.   
Avoid These Mistakes While Selling Your Dubai Property 
Selling one's property is a time-consuming and challenging proposition. Though property owners often make several small slips here and there, the 7 mistakes we've listed above are extremely crucial and a complete 'must-avoid at all costs' list of errors.  
 By avoiding these, you will experience a stress-free, quick, and effective sale of your property.
  Make your property sale a relaxed and hassle-free affair. Sell with Maple & Rose.