The Dubai real estate market is booming, and its waterfront is one of the most popular areas for those looking to buy in the Emirate.   
Many are drawn to the waterfront area of Dubai because properties here offer spectacular views and a quieter environment than in other parts of the city, such as Downtown Dubai. Communities like Jumeirah Beach Residence and Dubai Marina are becoming increasingly popular investment spots for expatriates and young families looking for a home.   
Today, we look at the top 10 properties in prime waterfront neighbourhoods of Dubai.
Dubai Waterfront Communities
Living in the waterfront area offers countless benefits, which is why ocean-view real estate in Dubai is an in-demand investment choice.   
First and foremost, residents love areas like Jumeirah Beach Residence and Dubai Marina for their proximity to the beach. Families, in particular, seek out these areas when looking for a home in Dubai because of the lifestyle benefits they offer, with plenty of parks, water activities, and retail outlets.   
Residents can also enjoy easy access to all the amenities and facilities they might need, including a range of supermarkets and smaller grocery stores, shopping malls, gyms, swimming pools, spas, medical facilities, schools, and more.   
Additionally, all of Dubai's waterfront communities are well-connected to the rest of the city with transport links like buses and the metro. This makes it an ideal location for those who work in the business district or downtown but want to enjoy the lifestyle benefits of a city like Dubai.   
Top 10 Dubai Waterfront Real Estate Properties 
In the huge metropolis, there are many waterfront properties to choose from, including a range of apartments and villas.  
Here are the top ten residential properties with homes available to buy in key waterfront areas of the city, Dubai Marina, Jumeirah Beach Residence, and Palm Jumeirah.   
1.

Blakely Tower, Dubai Marina 

 
Blakely Tower is a 24-story building that is part of the up-scale boutique apartment complex 'Park Island.' The tower comprises sophisticated 1 and 2-bedroom apartments that are elegantly designed with scintillating views of the Marina. The building is on the water's edge within walking distance of retail shops, cafes, restaurants, metro, bus, tram, and the JBR beach.  
 The building comes fully equipped with state-of-the-art amenities for its residents, including a swimming pool, 24-hour security, a children's play area, a barbeque area, a sauna and steam room, and 2 indoor squash courts.  
 Maple and Rose proudly present this spacious and chic 2-bedroom apartment available for rent at Blakely Tower. The unit has floor-to-ceiling glass windows, a balcony with gorgeous views, a parking space, and built-in wardrobes.   
2. Marina Quays West, Dubai Marina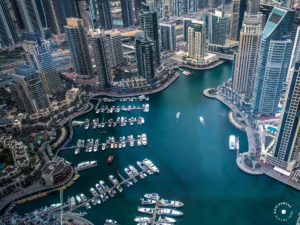 Marina Quays West is one of three buildings in the Marina Quays residential complex. It is home to a number of affordable, ready-to-move-in apartments offering spectacular marina views and stylish interiors.   
Situated next to the beach, Marina Mall, and a tram station, this property has a range of facilities, including a shared gym, outdoor swimming pool, sauna, steam room, jacuzzi, and more.   
Explore property options at Marina Quays West with Maple & Rose.  
3. Marina Mansions, Dubai Marina
Marina Mansions is a 30-story residential building in Dubai Marina. The property features a fully-equipped gymnasium with panoramic views, a health club, a swimming pool and jacuzzi, tennis and squash courts, and more.   
Buyers seeking property in this area of Dubai can check out this extra-large 3-bedroom unit in Marina Mansion for sale with Maple & Rose. Each bedroom has en-suite, and other great features include a living room and dining room space, a terrace overlooking the Marina, a maid's room, and more
4.

Marina 101 Tower, Dubai Marina 

 
Inspired by the unique architectural style of Manhattan, New York buildings, Marina 101 is an iconic structure in Dubai's cityscape with 101 floors above ground. This project will become the second tallest building in the UAE after Burj Khalifa and the 26th tallest tower in the world.  
Located in a prime location in Dubai Marina, Marina 101 Tower is close to attractions such as Emirates Golf Club, Skydive Dubai, Downtown, and JBR Beach. The building provides top-of-the-line facilities to residents, like 2 shared gyms, covered parking, a play area and swimming pool, game rooms, concierge service, and tennis and squash courts.   
Check out this spectacular brand new 3-bedroom apartment available for sale at Marina 101 Tower, by Maple & Rose. Sophisticated and spacious, the unit comes with a maid's room, study, a fully fitted kitchen, and amazing golf club and Marina views. 
5.

West Avenue, Dubai Marina 

 
Another magnificent development in Dubai Marina, West Avenue, is a gem in the area. Its architectural style reminds one of Manhattan, New York. With clean and sleek lines and a minimal facade, the building comprises 276 luxury residential units, including penthouses, 1 to 3 bedrooms, apartments, and studios.  
Top Dubai attractions like Jumeirah Beach and Dubai Marina Yacht Club are within a five-minute walk from West Avenue Tower. The building is well connected to the rest of the city via the JLT metro station and Sheikh Zayed Road.  
Residents get the finest selection of world-class amenities, including 24-hour maintenance and security, a gym, temperature controlled swimming pool, sauna, steam room, jacuzzi,  kids' play area, barbeque area, and high-speed elevators.  
Maple and Rose proudly present this spectacular 4-bedroom penthouse at West Avenue for sale, which comes with 4 balconies providing stunning Marina views. 
6.

Marina Diamond 6, Dubai Marina 

 
Marina Diamond 6 is part of the Marina Diamond Complex, a cluster of 6 residential towers in Dubai Marina. The 20-story building comprises 190 small, cosy 1 to 2-bedroom apartments with spacious living areas and great views.   
The tower also provides amenities like a swimming pool, steam and sauna, gym, and fire-fighting system. It is close to shops, cafes, and public transport stops.   
If you're looking for a spacious apartment to make a cosy home in Dubai Marina, check out this marvelous one-bedroom unit for sale in Marina Diamond 6, available with Maple and Rose.  
7.

Jumeirah Gate Tower 1, JBR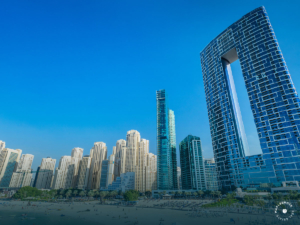 Jumeirah Gate Tower is part of Jumeirah Gate, situated at the end of Jumeirah Beach Residence District and close to the beach. The development is twin 74-story towers that house a five-star hotel, 479 residential apartments, and 496 serviced hotel apartments.  
Maple and Rose have this spacious, fully furnished 2-bedroom apartment for sale in Jumeirah Gate Tower 1 that boasts an ocean view, a long balcony, a fully-fitted kitchen, living space, and parking.   
8.

52|42, Dubai Marina 

 
A true architectural delight in the heart of Dubai Marina, the 52 42 luxury towers are built by Emaar and have a unique shape. Designed with a nautical theme, these towers resemble the outline of a ship. These have a glass-front facade with full-height glass walls that extend beyond the indoor living space to give an effect of extra outdoor living with amazing views of the Marina.   
With private decks, infinity pools, and green spaces, 52 42 provides luxury and fine living to its residents. There is also a state-of-the-art gymnasium, swimming pool, play area for children, covered parking, and a concierge service.   
Maple and Rose present this gorgeous brand-new 2-bedroom apartment for sale at 52|42, Dubai Marina. The unit has a spacious living area with high-end finishings and floor-to-ceiling windows.   
9.

Dubai Gate 1, Jumeirah Lake Towers 

 
A 35-story high-rise structure, Dubai Gate 1, is part of the famous Jumeirah Lake Towers complex. The tower offers spacious living units with breathtaking lakeside views, providing ideal waterfront living.   
Jumeirah Lake Towers combines business and pleasure while offering quick access to the city's north and south through Sheikh Zayed Road. Two metro stations are also accessible by foot from the buildings.  
Maple & Rose is pleased to present this bright and classy 1 bedroom apartment for rent in Dubai Gate 1, Jumeirah Lake Towers. The unit is fully furnished with a well-fitted open kitchen.
10.

Palm Tower, Palm Jumeirah
The Palm Tower is an elegant, striking, and chic 52-story development in the heart of the upscale Palm Jumeirah island. It houses a five-star hotel and sophisticated residential apartments with stunning ocean views.   
With its award-winning architecture, the tower is considered one of Dubai's most exclusive and prestigious addresses. The amenities in the complex can blow anyone's mind with their innovative and luxurious flair, such as a sky pool, fine dining restaurants, and an observation deck.  
Maple and Rose proudly presents a spectacular and elegantly designed studio apartment available for rent in the Palm Tower at Palm Jumeirah.   
Discover the full range of Dubai Waterfront properties from Maple & Rose
As one of the leading real estate companies in Dubai, Maple & Rose offers a range of services for property buying and leasing in the Emirate. The Maple & Rose team is made up of the best real estate agents in Dubai, who can help you find a property, whether in the Dubai Waterfront area or elsewhere, that suits your needs.   
Whether you're in the market for a stylish ocean-view apartment, a luxury penthouse, or a modern villa – we'll help match you with your dream home. 
Discover  the latest properties for sale today from Maple & Rose.