With the landmark progress of Dubai's real estate market since the UAE government's freehold property ownership laws were introduced in 2002, global investors have shown a tremendous interest in the Middle Eastern city. Foreigners in large numbers consider buying real estate here a lucrative investment. Although, many still question how to buy property in Dubai. 
Despite Dubai's relaxed property ownership policies in place, it is surprising how many foreigners and expats still need to question whether they are allowed to buy property in Dubai. It is a constantly growing sector, with sales transactions and purchases doubling over the last few years. Yet, investors looking to buy property in this financial hub have queries such as "can I buy property in Dubai?", "What's the buying process?" and "what are the prerequisites and related costs?" Another common ambiguity lies with the term 'freehold areas.' 
We aim to address all these queries and more in our blog today and provide an easy and straightforward lowdown on purchasing real estate in Dubai.  
Let's get into it by addressing the most pertinent question first:  
Can Foreigners Buy Property in Dubai? 
Since the government introduced the concept of freehold property zones back in 2002, buying property in Dubai has become a possibility for foreign nationals and expats, in and outside Dubai.   
With these new policies in place, the United Arab Emirates government allocated special zones across the city called freehold zones. Foreigners can purchase property, sell it, or lease it, in these designated areas. They don't require any specific documentation or local sponsorship to do so.   
The free zones provide real estate purchase as well as leasing options for a period of up to 99 years. Both non-resident foreign nationals and resident expats are included in this category and don't have to face restrictions when investing in Dubai real estate.  
Buying property in Dubai enables foreign nationals to obtain a residence visa or investor visa, thus ensuring a long-term stay in the Emirate.  
What Type of Properties Can Foreigners Buy in Dubai? 
Another pertinent question right after how to buy property in Dubai is what options of real estate are available for foreigners. Dubai is a real estate haven with many active construction and development projects underway and a lot more in the pipeline. What this implies for the foreign investor is an array of Dubai property options to choose from.   
The great part is that the freehold areas are some of the city's most sought-after and high-potential localities with plenty of investment opportunities. Investors can choose from residential properties like a studio and 1-2 bedroom apartments, spacious townhouses, villas, and luxury mansions. Then there are also options between waterfront properties and holiday homes.  
Freehold zones cover different areas in the city, both high-end and budgeted. This makes it possible for foreigners of various budgets to buy property here, from affordable units in mid-ranged localities to luxury housing in upscale neighborhoods. There are duplexes, lofts, and studios. You name it.   
The trendy and in-demand locations like Dubai Marina, Dubai South, Dubai Sports City, Palm Jumeirah, Downtown Dubai, and Arabian Ranches are all freehold areas.   
Besides residential units, foreign investors can also buy or lease commercial properties like office spaces, shops, hotels, and showrooms. However, foreign investors must get pre-approval from the Dubai Land Department to purchase commercial real estate. They can also finance their commercial purchase through local bank mortgages.   
Investors can also choose an off-plan property instead of a completed one. Off-plan properties are parts of under-construction projects that developers offer buyers for a reduced cost. Buyers are not at the losing end, though. Instead, they earn better profits as the property value immediately jacks up once the construction is complete.    
How to Buy Property in Dubai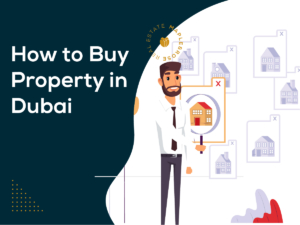 Buying property in Dubai is now hassle-free and straightforward. The government has automated and fast-tracked all steps of the buying and selling process so that people are not subjected to long waiting periods or confusion.   
The entire process from searching for a desirable unit to hand-over can take on average about six weeks. We've simplified the process for you in a couple of steps:  
Step 1: Select Your Property 
Choose from a range of online property listings on leading property portals to see what's available in the current market. You will be amazed at all the options you see for your preferred location; be it Dubai Marina or Business Bay. Therefore, connecting with a broker will help you streamline your search.   
Be sure to engage a RERA-licensed agent who can help you find an ideal unit in accordance with your needs, requirements, budget, and lifestyle.   
Step 2: Sign the Sale and Purchase Agreement 
Once you've selected a property and negotiated a deal with the seller (or had your broker negotiate the deal on your behalf), you, as the buyer and the seller, have to sign a sale agreement or an MoU.   
An MoU contains pertinent information like the deal's terms and conditions, the property's address and cost, and who is responsible for bearing any transactional-related costs.   
The seller must have a valid title deed before signing the sale agreement. At this time, an upfront cash deposit of 10% of the total property price is made by the buyer to the seller, with the MoU containing a clause about the details for the remaining payments.  
Step 3: Have Outstanding Payments Cleared 
If any outstanding mortgage payments are left, the seller must clear them before the final sale. Once any remaining payments are made, the developer will issue a 'No Objection Certificate' or NOC to the seller, which is a prerequisite before the seller can officially sell their property.   
Step 4: Register Deal With DLD 
Once MoU and NOC are done, the buyer and seller must officially register their deal with the Dubai Land Department (DLD). Both parties must be present or have a Power of Attorney to represent them during the registration process.  
Step 5: Make Remaining and Final Payment 
After registering your deal at the DLD, it's time to make the remaining payment for your new property to the seller. Your entire cost breakdown will cover the following:  
Broker fee paid to the broker – 2% 

 

Transfer Fee paid to the DLD – 4% 

 

AED 4000 approximately for the registration at DLD (for properties worth over AED500,000 in value) 

 

AED 500 approximately paid to the DLD as a title deed issuance fee 

 

Mortgage registration fee paid to DLD, if applicable 

 
Step 6: Issuance of Title Deed in the Buyer's Name 
A title deed is a certificate of ownership, which at this point, will be issued in the buyer's name once they have made the final payment.   
Congratulate yourself on finally being the new official owners of your chosen property and getting your keys to your place from the seller.  
Step 7: Get Your Utility Connection  
After getting the keys to your place, you must send an application to the Dubai Electricity and Water Authority (DEWA) to update your property's ownership status in their records. Consequently, they will issue you new utility connections.   
How to Buy Off-Plan Property 
It is important to mention that when we talk about "how to buy property in Dubai", the process for buying off-plan properties is slightly different from purchasing ready-to-move unit. Follow these steps to acquaint yourself with all the essential steps.  
Step 1: Select a Property 
Instead of ready properties, off-plan projects are still under construction; thus, you have no unit to physically get a feel of the place during your property search. Therefore, you should go over different off-plan project plans to ascertain which one you like. You can also visit the construction sites to get a further idea of the place.  
It's a good idea to engage a licensed agent to help you find a deal that fits your budget and requirements.  
Step 2: Ensure Project's RERA Registration 
Once you select your off-plan property, ensure that the project is registered with RERA. Registration is mandatory as a part of protecting the investors' rights.   
RERA requires developers to provide 20% of the project value as a bank guarantee or complete 20% construction of the property before selling it.   
Step 3: Send the Application Form 
Once all the above is clear and out of the way, fill out and send an application form to the developer to initiate your buying process. The application form lists essential information like the buyer's name and other personal details, terms of sale, and the payment plan.  
Step 4: Select Unit 
You must select and specify the unit or property you plan to buy within the off-plan project.  
Step 5: Make an Initial Deposit 
Now it's time to make an initial deposit to seal the deal. Depending on the project and developer, this can range between 10 to 50% of the total property price.  
Step 6: Registration Process 
You must register your purchase deal at the developer's office. At this point, an Oqoodi certificate will be issued in your, i.e., the buyer's name. Oqoodi is an official sale agreement document.  
Ready to Buy Property in Dubai ?
Whether you're looking to buy a residential property like a chic studio apartment or a waterfront luxury villa, or you're searching for an ideal office space or hotel apartment, our comprehensive guide on purchasing property in Dubai will be a great help.  
Is it off-plan that tickles your fancy, perhaps? We've got that sorted too. So sort out your budget, list your requirements, call us, your loyal brokerage partners, and get ready to invest in this city of dreams.  
Explore your best investment options for all property types in Dubai with Maple & Rose.