Are you an aspiring property market enthusiast and wondering how you can become a successful real estate agent in Dubai? Say no more and read on. 
The real estate industry in Dubai is a thriving and ever-growing sector. It significantly contributes to Dubai's allure and global appeal, shaping the city into how we see it – a magnificent megapolis of opulence, modern infrastructure, and futuristic high-rises.  
No wonder a career in such a huge industry sounds exciting and lucrative. Like in other professions, the real estate sector requires prospective agents to undergo recruitment steps and training before officially certifying them as job ready.  
If you, too, are an aspiring real estate agent but need help figuring out where to begin, look no further. We explain the entire process here. Before getting into it, let's check why being a real estate agent in Dubai is a great career choice.  
Why Being a
Real Estate Agent
in Dubai is so Great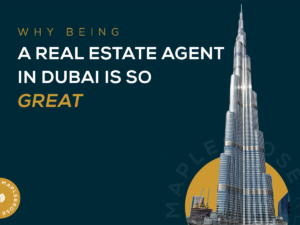 The adrenaline rush of convincing people to close a deal and the sweet feeling of money rolling into your bank account is enough of a reason for many aspiring agents to make a career in Dubai's real estate. 
If approaching people and being a good communicator are skills you possess, you may become a successful agent. However, those who aren't great communication starters can nurture these abilities. 
A career in Dubai's real estate has many benefits. Let's explore these below: 
Millions flock to Dubai each day for economic and social emancipation. Real estate, thus, is a sector that continues to grow to accommodate housing, offices, and other structures for the city's growing population. The rising numbers also encourage foreign investors to bring their money into the city for major construction projects like hotels, malls, and apartments. This results in consistent and increasing real estate activity in the city and no shortage of transactions. 
Agents are the most crucial stakeholders in all real estate transactions, as they are the heroes who make the deal happen. They are the mediators and negotiators between the buyers and the sellers. Without an agent, we can expect less than half the deals to be successful as opposed to when an agent steps in and makes things happen. 
An agent's job is never boring or predictable as they wear many hats. Playing diverse roles like a negotiator, a salesperson, an analyst, a consultant, and a marketer is all in a day's work for a real estate agent in Dubai. You will be constantly challenged and inspired to perform various job tasks that will keep you engaged. 
Agents typically work on a commission basis with a real estate agency. They are not salaried employees. Instead, they work on a profit-sharing ratio with the company. Thus, an agent can earn a lot of commission from each deal they close. They determine the amount they make each month with the number of deals they close, not the agency. 
There is a lot of financial freedom and independence for real estate agents. This includes the amount of money they make and the chance to become entrepreneurs in their own right outside the confines of the brokerage they work for. They get to establish their own network, leads database, and their personal branding. Agents can nurture their independent reputations based on the standard of their work and their social network. 
How to Become a Real Estate Agent in Dubai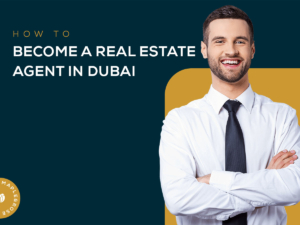 Sounds too good to be true? It may be challenging, but it brings many rewards and fulfillment. So, follow our ultimate guide to learn how you can become a successful agent in Dubai. 
Get Your Residency Visa (non-GCC nationals)

 
If you are a non-GCC national, you must get a resident visa for the United Arab Emirates (UAE). This allows you to live and work long-term in Dubai. There are different pathways to obtaining a resident visa. 
Usually, an employer can sponsor their employees for a work permit. In this case, if you apply to be a real estate broker in Dubai with a real estate firm, they can sponsor you for a resident visa. 
Alternatively, if your spouse is already employed in the UAE and has a work permit, they can sponsor you for your resident visa. 
Once you receive your residency visa, you can get your Emirates ID. Both the residency visa and the Emirates ID are prerequisites for all future processes from hereon. 
The next step is to obtain your real estate training from the Dubai Real Estate Institute (DREI). This four-day course is called the 'Certified Training for Real Estate Brokers'. 
The course provides in-depth information on Dubai's real estate laws and processes. It is approved by the Real Estate Regulatory Agency (RERA), a Dubai Land Department (DLD) regulatory division. The curriculum encompasses the code of ethics, sale processes and agreements, and the history of Dubai's real estate industry, among other necessary core modules. 
You can get your training online or in person at RERA's agent registration training center at the Dubai Land Department. The cost of the entire training is AED 3000. You will require your Emirates ID and residence visa to attend the training, so get those out of the way before you enroll in the course. 
The culmination of the 4 day's training is a written registration exam that you must clear to get your broker card and official realtor license. 
The exam fee for candidates with a bachelor's degree is AED 3200, while those without a bachelor's degree have to pay AED 6300. 
Get Your

Real Estate License

 
You can get your realtor license and broker card upon clearing the RERA exam. This marks your entry into Dubai's real estate business and allows you to begin your professional practice as an agent.  
While applying for the license, you must also submit a certificate of good conduct issued by the local police. 
Once you submit your application, expect to receive your license and broker card from the Economic Department within 2 to 3 working days. 
Remember that you must renew your license one month before its expiration date. 
Associating yourself with the right brokerage or firm is an extremely integral and strategic move in your real estate agent career. 
It would help if you aimed to work with a company with a prestigious market position and reputation. This will impact your exposure to clients, the quality of your leads, your professional marketing, training, and access to resources. 
Before choosing a brokerage to join, check out their commission-sharing policies and employee benefits like health and visa insurance. 
Get in touch with us to begin a thrilling and rewarding career in Dubai's real estate and get access to personalized training and resources that we offer our agents.  
Educate Yourself on Dubai's Real Estate Laws

 
Getting equipped with everything real estate is a fundamental step before officially beginning your career. Understand how the industry works, the key players, and how things are done. Get familiar with important real estate terms, processes, licenses, and contracts.  
Network, Network, Network

 
If there was one word that would describe the job description of a real estate agent, it would be 'Network,' the second being 'Lead Generation.' Networking is the name of the game in this industry and an absolute necessity to generate leads, build contacts, and a client database. It also helps agents establish their reputation in the business. 
Networking primarily means connecting with prospective buyers, sellers, tenants, and other agents. It also includes interacting and building contacts with other industry stakeholders who can be helpful in closing deals. These include mortgage officers, building security guards, maintenance officers, and more. 
So, get out there, meet people, attend events, and be as approachable as possible. There are several ways to build your network. For instance, you can attend local events, both internal and external, to real estate. You can also join networking sites that provide fantastic opportunities to meet like-minded people. Additionally, social media is a wonderful place to spread your wings and broaden your sphere of influence. 
Remember, the more extensive your network, the wider your reach, the more the chances of you closing deals and being successful at your job.  
Develop Your Personal Branding

 
As you develop your network of potential leads, it is vital to market yourself to them. Pursue each and every lead through phone calls and emails. You can utilize your agency's marketing and technical tools and resources to market yourself well. This is the first step towards building your personal brand. 
Your personal brand is how people identify and differentiate you from the crowd, whether you are a freelance real estate agent or represent a brokerage. Identify your unique attributes and market those as your personal brand. Promote yourself on social media and through the quality of your listings. Make your listings stand out by using high-quality images, videos, and virtual property tours. 
Another way to nurture leads and market yourself is to send personalized emails to past and potential clients. 
Find Your Niche and Develop Your Expertise

 
Dubai is a big city with an over-saturated market and many agents servicing the same area. The challenge is to develop your unique selling point within a specific location in the city. You want people to remember you as their go-to agent for whichever area you choose. 
To this end, you must be a walking encyclopedia for your selected location. Do intensive research about the area and surrounding localities. Be up to date on schools, hospitals, pharmacies, malls, and recreational facilities. Moreover, get familiar with the area's history, significant events and developments, population, and similar demographics. 
Stay Abreast of Market Insights, Prices, and Forecasts

 
Being great at your job is important. Being well-versed and updated with the latest insights and market prices will help you get there. A knowledgeable agent uses this information to build their authority in the business. 
Many times, your clients will look towards you for market guidance and suggestions. Thus, you must be prepared to answer their questions and satisfy their curiosity. 
It's a good idea to read lots of online industry resources, blogs, and reports to stay on top of things. You can subscribe to these resources and get access to memberships of industry channels and portals. 
Be Caring, Committed, Credible, and Capable

 
A successful agent must inculcate and nurture several qualities. On one hand, they must be smart, ruthless, and calculated. Simultaneously they need to be empathetic and caring toward their clients. The agent must instill feelings of genuine concern over getting their client the best deal in the market. 
Maple & Rose's 4 C value system reflects a true blend of all the essential qualities an agent must possess. You must be caring and empathetic towards your potential clients so that they feel they can rely on you with their hard-earned savings. Do their background research to gauge what your client would like and what would best suit their requirements. Show empathy towards their needs. 
You must be committed and dedicated to closing deals. This will require a dedicated effort to go the extra mile and do whatever it takes to see the deal through. Put on multiple hats, run all over the place, whatever it takes. 
Credibility goes hand in hand with your integrity in your work. Only promise your clients what you can deliver and be sure to deliver what you promise. Show your capability by doing your job well. Negotiate the best prices and work smartly. Be efficient, systematic, and goal oriented. Focus on being a problem solver and crisis manager. Enable your and your client's decision-making skills. 
Begin a Dynamic and Rewarding Career in Dubai's Real Estate
An agent's life is challenging yet immensely gratifying and fulfilling. It's a dynamic, fast-paced, and constantly changing career where you must adapt to various roles to get things done. 
Dubai's real estate industry is a true manifestation of the city's capacity to fulfill the socio-economic goals of its residents by providing numerous economic and investment opportunities. 
By becoming a real estate agent, you can get on this bandwagon to taste a slice of the pie. Especially if you are a smart talker, love meeting new people, and have excellent negotiation skills, this can be your ideal career choice. 
Being an agent requires clever thinking, problem-solving, hard work, and much trial and error. Yet once you learn a few tricks of the trade, you're good to go. Hopefully, our guide will be a comprehensive tool for kick-starting your career and providing you with substantial information on how to become a real estate agent in Dubai.  
Begin a rewarding career in real estate today