The real estate industry is a dynamic and financially rewarding sector, yet the stakes here are high. On the one hand, there are limitless monetary gains from each deal closed by a broker, on the other, there are periods of market slump where the broker has to settle for no deal hence no commission for months on end. With such a pressure-based job, agents and brokers are often tempted to force hard sales to maintain their regular cash flow. They often resort to misleading the client to influence them into closing a deal. This consequently leads the clients to view brokers with suspicion or caution. For that reason alone, the real estate industry needs to have a framework of ethical guidelines for brokers to follow in each client interaction and transaction.  
Dubai's real estate industry is renowned for being one of the world's fastest growing and most progressive industries. A significant contributor to this prestige is the absolute transparency, professionalism, and integrity by which the industry operates. The government ensures this status quo by delegating legal organizations to establish and oversee a set of rules and regulations for all brokerages to follow.   
The organization responsible for laying down a framework of ethical guidelines for brokerages in Dubai is the Dubai Land Department or DLD. In our blog, we look at these fundamental principles that form this framework and to which all real estate agencies and agents must adhere.   
Before that, let's understand what ethical brokering means and what rules and codes of conduct it involves.  
What is Ethical Brokering? 
Ethical brokering involves avoiding all such codes of conduct during real estate client interactions and transactions that are done to force hard sales, including deliberate attempts to confuse or mislead a client. In other words, anything an agent resorts to hard sell and close deals comes under unethical brokering.   
Ethical brokering thus implies strictly adhering to the basic guidelines or ethics laid down by a legal authority while conducting business.   
 DLD's Real Estate Business Ethics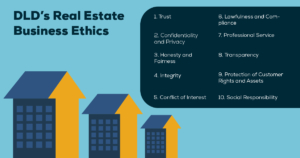 As mentioned above, in Dubai, the DLD is responsible for establishing and overseeing the implementation of an ethical guidelines' framework for real estate agencies and brokers. The DLD has made it easy and straightforward for brokers to be ethical while conducting business by laying down these 10 rules for all to follow. This framework is a foolproof formula for running a successful real estate business and for establishing your market reputation of integrity, compliance, and professionalism.   
1. Trust
Trust is one of the driving factors behind all real estate transactions and the first ethical guideline for brokers. An agent must develop feelings of trust and confidence with their clients. The client has to wholly and solely trust the agent with their assets and money for them to be convinced to close a deal.   
Thus a successful broker must run their business through a moral code of conduct that helps build their reputation as reliable industry experts.   
2. Confidentiality and Privacy
Next only to trust, respecting and maintaining clients' privacy is extremely important for brokers. Protecting your client's personal information is a fundamental rule of business in real estate. You should never disclose such sensitive information unless deemed necessary for a legal purpose or by a legal authority. Misusing your clients' data is suicidal for your business and can have long-term detrimental effects on your agent's career.   
3. Honesty and Fairness
As a negotiator, an agent must always treat their clients honestly and respectfully. They should treat all clients equally and fairly, without personal biases based on religion, nationality, or race to influence their dealings.  
4. Integrity
Being upright and upfront is paramount for an agent in all client interactions and business transactions. They should always be truthful and transparent in their consultations and advice to their clients. Further, agents must provide relevant and helpful information that will help the deal and the requirements of all stakeholders while maintaining professionalism and decorum at all times.   
Remember, conducting your business with integrity goes a long way in establishing your positive reputation in the market.  
5. Conflict of Interest
Minimize and address any conflict of interest and differences with your clients early on in the real estate journey. Ensure full disclosure of all aspects and information of the transaction and be as transparent as possible to avoid hassle and confusion later on.   
Avoiding conflict of interest between all stakeholders will lead to smooth and stress-free deal closure.   
6. Lawfulness and Compliance 
It goes without saying that adhering to legal rules and regulations is of prime importance for all brokers and brokerages. They can only conduct their business on any level if they comply with the laws laid down by a legal authority. Following such legal frameworks ensures zero foul play or illegal conduct on behalf of the broker. Simultaneously it also ascertains that no investor is treated unfairly. Rules bring accountability and foster an environment of constitutional structure and legitimacy to all transactions.   
7. Professional Service
Dubai's real estate sector is renowned for its top-notch professional services to clients. The industry prides itself on its delivery of top-tier service standards and quality of excellence. As a broker, you must maintain that standard of professionalism in all your client dealings and transactions. You must take care to achieve maximum client satisfaction by getting them unbeatable deals through detailed market analysis and research.  
8. Transparency
 It would be best to enforce complete transparency at all client touchpoints, interactions, and at every stage of the real estate transaction. This is done by making all information accessible and available to the clients. You must not misinform or mislead your clients to force sales. Never withhold any information from them.   
9. Protection of Customer Rights and Assets
As a real estate broker or agent, you are often directly involved with your customers' assets. It is your responsibility as their representative to safeguard their rights, interests, and their physical assets. Client rights and asset protection is a serious code of ethics set by the DLD and strictly monitored through the country's legal system.   
10. Social Responsibility
Real estate brokers are social and well-connected citizens of society. They have a social responsibility to their community's development and progress, especially its real estate infrastructural plans. As a responsible broker, you must actively participate in community initiatives and welfare programs while fulfilling your business and social obligations.   
Wrap Up 
The Real Estate Business Ethics framework is an excellent measure by the DLD to strengthen Dubai real estate's global prestige as one of the most professional, transparent, and efficient industries. It is vital for any broker or brokerage to adopt these principles in their practice. Only brokerages who do business ethically and responsibly develop a strong market reputation of credibility and reliance – hence enjoying a greater stream of loyal customers.   
Find professional brokers well versed with ethical brokering at Maple & Rose.