As we wrap up the second quarter of 2023, the picture couldn't have been brighter and rosier for Dubai's real estate sector. Much to the investors' relief, the second quarter saw a surge in the sector's growth, and the trend is predicted to continue well into the third quarter of the year. Thus, the Dubai property market insights of Q2 2023 are indeed promising and give us much to look forward to. 
Lets explore the major highlights and top indicators of the real estate market for the second quarter below. But before that, let's revisit all the factors that define Dubai's real estate market. 
Key Highlights of Dubai's Real Estate Market
The real estate market in Dubai is known for its rapid development and ambitious projects. Here are some general Dubai property market insights for the second quarter of this year: 
Dubai has been experiencing a steady increase in demand for real estate, driven by factors such as population growth, economic diversification, tourism, and foreign investment. The city has attracted buyers and investors from various parts of the world. 
Dubai offers a wide range of property types, including luxurious villas, apartments, townhouses, and commercial properties. The market caters to different budget ranges and preferences. 
Off-plan properties, which are developments still under construction or in the pre-launch phase, have been popular in Dubai. Buyers often purchase off-plan properties to take advantage of potentially lower prices and payment plans spread over the construction period. 
The Dubai government has implemented several regulatory measures to enhance transparency, protect investors, and stabilize the real estate market. These include the establishment of regulatory bodies, such as the Dubai Land Department and the Real Estate Regulatory Agency (RERA). 
Dubai has a significant rental market, with many expatriates and professionals opting to rent properties. Rental yields can vary depending on factors like location, property type, and market conditions. 
Dubai Property Market Insights of Q2 2023
The second quarter of this year saw a major growth of the real estate market. Two significant factors have contributed to this upward trend; the high influx of foreign investors moving their funds into the market and UAE's thriving economy.  
The geopolitical factors in the wake of the Ukraine War and a volatile unpredictable global economy have pushed investors to seek safer havens to relocate their money to. Dubai provides a secure and stable financial environment for capital investments and appreciations.  
Its constantly thriving and stable economy has been the least affected by global events and disasters, making UAE a trustworthy and reliable investment zone in the world. 
Property Prices
Among all the neighborhoods of Dubai, Al Yufrah 1 saw the highest growth in property prices. Al Yufrah is an exclusive up and coming neighborhood. It comprises aesthetically designed townhouses amidst expansive stretches of pristine beaches and lush green spaces. The community is state-of-the-art and comes with all the modern lifestyle amenities one would dream of. Al Yufrah's popularity led to a peak in its real estate prices in the Apr-Jun period, making it an investor's favorite choice to buy properties. 
Dubai-based protech, Realiste has identified several other real estate projects in Dubai that also witnessed a price increase during the April-June quarter of 2023. These projects include Madinat Dubai Al Melaheyah Part 2, Bluewaters Island, Al Hebiah First Part 3, Jumeirah Village Circle, Arabian Ranches, and Al Quoz Second Part 3.  
New Projects
2023 has proved to be an ambitious year so far in terms of the announcement of real estate projects. Over a whopping 100 projects have been announced to date, with some of them aimed at being the epitome of architectural and engineering brilliance. Some of these include: 
Samana Developers recently announced the Skyros residential project in Arjan.  According to a press release from the developer, the mid-luxury project will span across a built-up area of 567,433 square feet and will encompass 441 apartments. 
The architectural design of the towering 17-story building draws inspiration from the picturesque Skyros Island in Greece. The project is meticulously planned, with an estimated completion date set for June 2026, when it will be ready for handover to prospective residents. 
Situated in the highly sought-after location of Palm Jumeirah, this prestigious residential development shines as an exceptional investment opportunity. Offering 20 exquisite duplex units with a price range of AED 2,000-66,600 per square foot, this project guarantees a promising return on investment, with anticipated annual profits of 20-30%. 
Como Residence by Nakheel

 
Enveloped within the stunning surroundings of Palm Jumeirah, this remarkable development presents itself as a top-tier choice for those seeking ultra-luxurious investments. Each floor of this exquisite project showcases a single, exclusive apartment that offers breathtaking vistas of the island and downtown skyline. With a launch deposit of AED 5 million, which is fully refundable, investors can anticipate significant profits over a period of three to five years. A comprehensive analysis by Realiste's Index highlights the robust investment potential, projecting a remarkable property value growth of 50% or more within the next three years. The scarcity of available construction space in the area further amplifies the allure of this sought-after luxury property
An expansive venture showcasing numerous townhouses accompanied by breathtaking vistas. These townhouses boast an average price of AED 2.5 million, with projected profits estimated to reach approximately 30% within a span of three years. 
High Investor Tractions
According to Realiste's AI-driven market research, JBR, Jumeirah Golf Estate Part 4, and Wadi Al Safa 2 Part 1 are other popular real estate hotspots in the city. These areas experienced significant investor interest in Q2, resulting in a price surge ranging between 7.1 and 6.8 percent.
 
Sales Trends for Villas and Apartments
Let's move on to the sales trends for villas and apartments in our Dubai property market insights report for Q2.
Average Sale Price
The data below shows the comparison of the average sale prices for villas and townhouses in Q1 and Q2 of 2023, for different residential communities of Dubai. 
According to the chart, Palm Jumeirah and Jumeirah Islands experienced the highest sales value for villas while areas like Victory Heights, The Villa, and JVT Villas experienced the lowest sales value.  
The data below shows a comparison between the average sales price for apartments in Q1 and Q2 of 2023, for different areas in Dubai.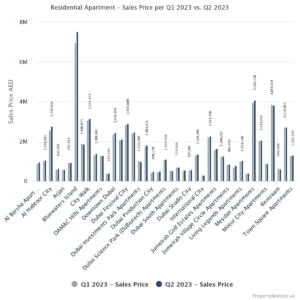 As we can see, apartments in Bluewaters Island, Remraam, and Meydan were sold at the highest sales value, whereas areas like Production City, International City, and Dubai South experienced the lowest sales value in transactions. 
Number of Sales
Below is a graphic representation of the number of sales transactions in the month of June 2023 for both villas and apartments for different Dubai neighborhoods.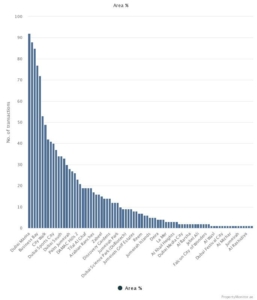 Carrying forward the trends of the previous months, Dubai Marina, Business Bay, and City Walk received the highest number of sales transactions. On the opposite end of the spectrum were Al Rashidiya, Jumeirah, and Al Mizhar, which experienced the lowest number of sales transactions in June.  
Title Deed vs. Off Plan Sales
The pie chart below shows a clear comparison between off-plan and title deed sales. As can be observed here, off-plan sales lead the way in Q2 at 51.5% of the total sales, whereas the transferred title deed sales were at 48.5%.  
A very slight difference hence was experienced between the two sale categories, both being equally popular and in-demand.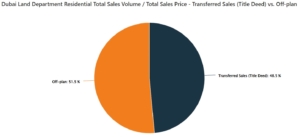 Off-Plan Sales
Next up on our Dubai property market insights for Q2 are off-plan sales. To get a clearer picture of the total number of off-plan sales for different Dubai areas in June, lets explore the data chart below.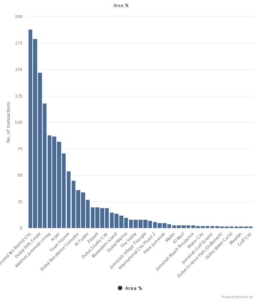 With a surge of new off plan projects underway, many of Dubai's communities received a high number of off-plan sales in June. 
MBR City, Dubai Hills Estate, and Madinat Jumeirah lead the list with the maximum number of sales. Dubai Water Canal, Meydan, and Golf City meanwhile experienced the lowest number of off-plan sale transactions in the same period, with a myriad of other neighborhoods in between the spectrum with varying numbers of sale transactions. 
In a Nutshell
The UAE's remarkable economic growth, coupled with a significant increase in international investors, is expected to persist in the upcoming months. This trend will fuel market growth and establish the country as a highly promising global destination for real estate investments. 
For more Dubai property market insights, and real estate sales and investments, get in touch with Maple & Rose.