Airbnb is the hottest trend in the property and tourism market world over. Quick to give tough competition, if not to entirely replace the demand for hotels and conventional vacation rentals, the Airbnb phenomenon is here to stay. Dubai, a major tourist destination, is not far behind in the rising demand for Airbnb short-term rental homes. So, what's all the buzz about, and if you're a property owner or investor, is it a good idea to convert your Dubai property into an Airbnb?   
Let's explore what kind of profits you can expect to make on your Dubai property if you convert it into an Airbnb, what to expect once you decide to register with the Airbnb portal, and how to get started.  
The Rise of the Airbnb Trend 
Airbnb has become so popular recently due to the belief that lots of money can be made in shorter durations by letting your property to tourists for the short term.   
Ever since the UAE government allowed it in April of 2016, landlords and property owners have been free to directly register their properties on the international home-sharing network Airbnb. Now they no longer have to rely on marketing and logistical agencies to manage their properties' rental deals. By being free of these middlemen, the landlords don't have to pay hefty amounts from their profits to these agencies.   
According to research, property owners can increase their income returns through short-term rentals via the Airbnb network by up to 30%. Along with a good return, there are several benefits of getting your property on board Airbnb. We will be discussing those in a later section. Yet because of so many pros, several landlords want to join the Airbnb bandwagon and enjoy a slice of this cake.  
If you, too, are in the same boat, read below to get an idea of what all you need to know before converting your property into an Airbnb.  
What to Consider When Converting Your Property into an Airbnb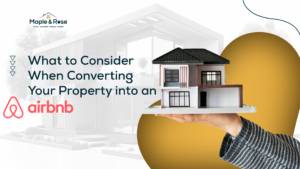 So, it's terrific that you've decided to turn your Dubai home into a welcoming place for tourists looking for short-term rentals. However, like all other investments and great business ideas, this plan, too, requires a strategy and some practical planning.   
Here are the steps you must take and the factors you must consider before you begin.  
Getting Necessary Permits 
You cannot simply put up your home on the Airbnb portal and greet your first tenants without getting a proper permit. To register your property on the Airbnb network and legally rent it out, remember to get your license. For this, do the following:  
Visit the Department of Tourism and Commerce Marketing's (DTCM) website and register as a homeowner.

 

Submit the essential documents and pay the required fee at the DTCM office. 

 

Once your application is approved, you will be given an account verifying you as a registered holiday home rental provider.  

 
Please note that you must pay your license fee for the number of rooms on the property.  
Additionally, you must get a Tourism Dirham License. This enables you to charge your guests a small tourism fee called the "Tourism Dirham Fee." This fee is for tourism developmental purposes and is remitted to DTCM each month.  
Prepping Your Property 
Before you let out your property to short-term tenants, ensure that it is adequately prepared and prepped up for the purpose. To begin with, it must be clean, well-maintained, and comfortable. Remember, your home has to serve the purpose of a rental home instead of your personal space. You may need to remove personal items such as clothes, food, and pets from the place.  
Although what makes Airbnb stand out from the traditional rental home is the homely personal touch of the space, you must consider the needs and comfort of your tenants. Invest in good bedding with lots of pillows, clean sheets, and duvets.   
Take all the necessary measures to make your tenants' stay as comfortable and pleasurable as possible. Besides extra bedding, regulate the property's temperature in accordance with Dubai's weather conditions. Add soundproofing if your home is near a source of noise.  
Ensuring Property's Safety and Quality Standards 
Your property must meet the officially laid down standards of safety and quality. This includes the installation of smoke detectors, fire extinguishers, fire blankets, and other emergency resources like gloves and torches.   
Also, it is crucial to adhere to the local building codes.  
Maintaining Guest Records 
The Dubai government has made it mandatory for all Airbnb homeowners to maintain detailed and accurate records of their guests. This includes their passport numbers, visa details, and contact information.  
VAT Obligations 
As per UAE law, if your property makes profits exceeding AED 375,000, you must register for VAT and charge it to your guests.  
Pros and Cons of Converting Your Property into an Airbnb 
Now that we've looked into all the steps that need to be taken to convert your home into an Airbnb rental space let's get into the many benefits of the same while also observing a few challenges.  
Pros 
of Converting Your Property into an Airbnb
More lucrative than renting to a long-term tenant. You get to make more money within the same time period. 

 

A great way to earn a solid and stable passive income, especially if your property is in an in-demand popular area.  

 

Allows more flexibility for the owner. They can rent their property whenever they want and use it as and when they want. A long-term rental contract doesn't offer the same flexibility. 

 
Using your home as an Airbnb is a great way to meet new people from all over the world and connect with different cultures. 

 
Cons of Converting Your Property into an Airbnb
You have to bear high maintenance costs each time you need to rent out your place to new tenants. 

 

You have to bear the property's running costs, including utilities, furnishings, and cleaning. 

 

Monthly income is not fixed. 

 
Earnings from Airbnb don't increase overnight. They gradually pick up the pace. The number of bookings you get depends on your rating and reputation as a good host. 

 
Get Started on Converting Your Dubai Property into an Airbnb 
Converting your Dubai property into an Airbnb is a fantastic way of earning passive income and allowing yourself more flexibility while doing so. Unlike a traditional long-term rental, Airbnb allows you to enjoy higher returns in the same amount of time.  
Get in touch with our property experts today to find an ideal property in a sought-after location to start generating income through Airbnb. Also, avail end-to-end guidance and property management services.