Once considered a far-fetched idea, buying something as tangible as real estate with intangible digital currency is now standard practice in Dubai. Buying property with cryptocurrency is now one of the most convenient modes of purchasing real estate in the Emirate. Today we explore the benefits of buying property in Dubai with Bitcoin, a commonly used cryptocurrency here, and the process you can follow.
Cryptocurrency is the hallmark of digitization of all aspects of our lives. A technological advancement beyond measure, buying, and trading in digital currency is considered the way to go in the real estate sector of the UAE. It is not only convenient but also regarded as the safest way of carrying out huge money transactions involved in buying and selling real estate.   
Can You Buy Property in Dubai with Cryptocurrency?
Not to lag behind in modernization and progression, UAE was one of the first countries to integrate cryptocurrency into its real estate system and made extensive developments in blockchain technology.  
Thus, buying all residential and commercial properties is fast, easy, and secure with cryptocurrencies like Bitcoin and Ethereum. The preferred crypto brokerage provider in Dubai is Bitcoin Swiss. As long as all stakeholders follow the legal protocol and adhere to real estate regulations, they can seamlessly buy and sell property through Bitcoin transactions.   
Advantages of Purchasing Property Through Crypto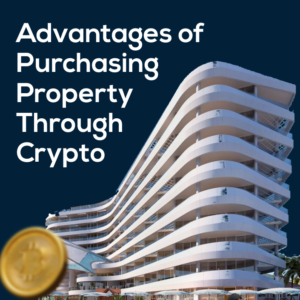 Here are some of the major benefits of using cryptocurrencies like Bitcoin to buy property in Dubai:  
Safe and Secure Transaction 
Cryptos like Bitcoin are the safest modes of payment. For example, when you pay in Bitcoin, the system converts the currency into fiat currency. Fiat is a particular type of currency regulated by the state and central banks. Other private financial institutions have no link with it. Hence fiat money is directly connected with a country's economy and is not impacted by market trends. This way, fiat currency protects your assets entirely by providing a safety hedge against market fluctuations.   
Cost-Effective 
Making payments through crypto is more cost-effective than traditional bank transactions. Unlike banks that charge a heft transaction fee, there is a minimum charge on international payments and transfers.   
Moreover, crypto money transactions are free of extra hidden charges like tax and property fees. Cross-border transactions through crypto are performed at a nominal price.  
Fast Method 
Using crypto to carry out one's real estate transactions makes the buying process so much simpler, seamless, and faster. Transfer of ownership is prompt, minus the lengthy procedures and excessive paperwork.  
Anonymity
Another great advantage of using cryptocurrency during real estate transactions is that buyers and sellers remain anonymous. Since you are not paying or receiving money via a bank, you can choose to stay anonymous.  
How to Buy Property in Dubai with Bitcoin 
Bitcoin is the main cryptocurrency used in Dubai's real estate transactions. There are two methods where you can use Bitcoin to purchase property in Dubai:  
Directly transfer money to the seller's account 

 
Use your cryptocurrency as collateral against a bank home loan 

 
Both the above methods are widely practiced in Dubai for the quick and convenient purchase of real estate.   
You can purchase property in Dubai with cryptocurrency using these three basic steps:  
Select your property 

 

Transfer your cryptocurrency to make a full payment 

 

Obtain ownership of property  

 
Frequently Asked Questions 
Where in Dubai can you buy properties with Bitcoin? 
Dubai's various residential and commercial neighborhoods offer an array of property options that can be bought using cryptocurrency like Bitcoin. Bitcoin Swiss is Dubai's most commonly used crypto brokerage provider and is preferred by most buyers and sellers.  
Most significant developments and projects in Dubai by prominent developers can be purchased with Bitcoin payments.  
Which developers sell their properties by accepting Bitcoin? 
Most major developers in Dubai accept Bitcoin payments, such as Damac, Meraas, Emaar, and Dubai Properties.   
What should you consider before buying property in Dubai through Bitcoin?
There are a few considerations you must cater to before purchasing property with Bitcoin in Dubai:  
Ensure that the deal abides by UAE's laws.

 

Ensure the credibility of any third parties involved in clearing the deal. 

 

Have all your required documents ready and at hand. These include your proof of ID, passport, proof of address, contact details, and a Power of Attorney if your agent makes the deal on your behalf. 

 
Some landlords and real estate agencies accept and implement cryptocurrency payments as rent. However, this is not a widespread norm and varies from person to person.  
Wrap Up 
Dubai is a modern and futuristic Emirate with its pulse on emerging technology and engineering. Integrating cryptocurrency and blockchain into its systems is a prime example of how advanced Dubai has become in making life for its residents smooth, systematic, and automated.   
One of the first cities to implement crypto in its real estate industry, Dubai has enabled global investors, local buyers, and sellers to conveniently carry out their transactions safely and promptly.