Dubai's real estate industry is world-renowned for its' modern and innovative approach to architecture and engineering. The thriving market keeps launching a string of futuristic projects that are feats of cutting-edge technology and sustainability. The Emirate's high-paced development has everybody hooked and eagerly anticipating what to expect next. With so much to look forward to, we've streamlined and selected some of the most exciting upcoming Dubai real estate projects that will blow your minds once they launch.  
These projects reflect the city's vision for the future and a commitment to inculcate safe and ethical building practices through sustainable elements. They combine luxury with remarkable design, aesthetics, and functionality.   
So are you ready to be awed by all that Dubai has in store? Let's get into it.  
Highly Anticipated Upcoming Dubai Real Estate Projects 
Sobha Reserve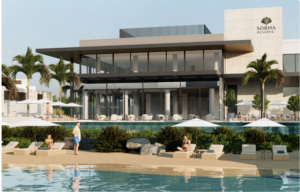 One of the most exciting upcoming Dubai real estate project is by the mega developer Sobha Realty. A real estate development unlike any other, a true indulgence for the senses, Sobha Reserve is a luxury residential project inspired by nature living. The development lies amidst a nature reserve, where residents will have access to forest views from all directions. 
Sobha Reserve comprises luxury 4- and 5-bedroom villas with modern furnishings and state-of-the-art amenities that include an outdoor cinema, botanical gardens, sports facilities, and more. Tree-lined walkways and floral clusters are aesthetically designed around each villa to give an ambiance of nature. 
Get in touch to discover investment opportunities at Sobha Reserve with Maple & Rose 
SeaHaven



Fancy ocean front living that encompasses maximum luxury and modern design? Sobha Realty's premium seaside project SeaHaven is nestled amidst Dubai Harbour and comprises 1 to 4-bedroom luxury apartments with stunning harbour and Downtown views. 
Residents will be able to enjoy world-class amenities, serene, picturesque living, and modern aesthetics. Aligning with the cutting-edge innovations in architectural design, SeaHaven will be a remarkable feat on its' launch and is already the hottest property choice amongst investors globally. 
Discover investment opportunities at Sobha SeaHaven with Maple & Rose 
Sobha One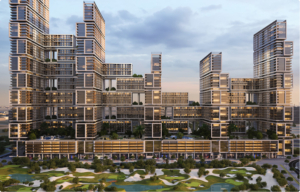 The real estate giant never fails to surprise us with one landmark project after another. After Reserve and SeaHaven, another fantastic development that has investors and residents eagerly anticipating its' launch is Sobha One. 
Exquisite futuristic design across the Dubai skyline defines Sobha One; a high-rise complex of residential towers comprising luxury apartments and duplexes. It consists of five interlinked towers overlooking Dubai Creek and providing spectacular views of the Burj Khalifa. 
Premium location, state-of-the-art amenities, and lavish furnishings at Sobha One give us a lot to look forward to in regard to luxury real estate in Dubai.  
Discover investment opportunities at Sobha SeaHaven with Maple & Rose 
Orla Complex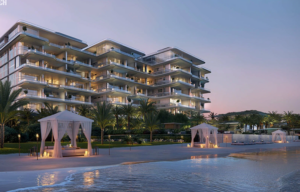 Next on our list of the best upcoming Dubai real estate projects is the Orla Complex by Omniyat Properties. Situated on the highly sought after island of Palm Jumeirah, Orla is the flagship project of the reputed developer. It is being developed on a 312,153 square feet beachfront plot of land in partnership with the globally reputable British architect Foster & Partners.  
The complex is a luxurious residential waterfront development with top-of-the-line amenities, 115 infinity pools, private elevators, a lobby, and a reception area. Each residence will feature a unique design and layout.  
However, the project's signature feature is the exclusive penthouse, popularly called the 'Sky Palace' by the founder of Omniyat, Mahdi Amjad. The penthouse is unlike anything else you've seen before. It is expansive and huge, built on 50,000 square feet (about half the area of a Manhattan city block). The epitome of high-end living, the penthouse will provide 270-degree views of the Arabian Gulf and Dubai skyline. It will have a private pool, gym, and other amenities.   
DIFC Living and Innovation Two 
The famous DIFC Innovation Hub is being expanded and transformed into a mixed-use space. The first of its kind in the area, the new project is called DIFC Living and Innovation Two. It will feature independent yet connected residential and commercial units.  
The futuristic and innovative development will combine residential units with retail, fine dining, co-working, and office spaces. It aims to be the most extensive ecosystem based on fintech and modernization.   
The upgraded Innovation Hub will comprise 184,000 square feet of co-working and office space and 107,000 square feet of retail units. The project will set the bar high for the rest of the world in terms of cutting-edge architecture and functional design.  
Burj Binghatti 
Make way for the world's highest residential tower. Eagerly awaited amongst all the upcoming real estate projects in Dubai, the mega-developer Binghatti has joined forces with the luxury jeweler Jacob & Co to create an architectural marvel unheard of before. Located in Business Bay, the residential tower is expected to be higher than New York's Central Park Tower.   
The Burj Binghatti Jacob & Co Tower will feature more than 100 floors with 2- and 3-bedroom residences and penthouses. The building will offer its residents the best luxurious amenities like a concierge service, a private members club, an infinity pool, and more.    
The magic of the project, however, lies in its design. The tower's architecture is inspired by the horological movements found in the much-coveted Jacob & Co timepieces. The diamond-shaped spires on the top of the building resemble the jeweler's crown, made of finely cut gems.  
S Tower 
Another magnificent development on our radar for the upcoming Dubai projects is the S Tower Signature Residences by the premium developer Sobha Realty.   
The S Tower remains one of Sobha's most exclusive and modern projects to date. Conveniently located on Sheikh Zayed Road, the building will be developed on the backward integration model. It will be 63 stories high, out of which 43 are dedicated to residences.   
Residents of the S Tower can enjoy stunning views of the open sea and the Emirates Golf Club. The building will also feature six levels of an enclosed podium car park and offer residents concierge and security services, five-star amenities like a spa, café, and an infinity pool.   
Another striking feature of the S Tower will be the integration of smart features into its design. These include window shades, smart lights, and mobile and pop sockets.   
Canal Front Residences 
A spectacular addition to Dubai's waterfront living will be the Canal Front Residences by the esteemed property developer Meydan. These are being built along the Dubai Canal and will provide scenic views to its residents amidst luxury living.   
The development will have 165 units, including 1, 2, and 3-bedroom apartments. Residents will enjoy amenities like an art gym, an outdoor pool, and a kids' play area.   
Palm Flower 
Dubai has proved to the world its superiority in craftsmanship and innovative design through developments like the Palm Jumeirah and World Islands. The Palm Flower is yet another exciting project to look forward to.   
It is being developed by Alpago Properties and will be located on the West Beach of Palm Jumeirah. It will feature eleven stories with ten exclusive luxury residences. Each residence will cover an entire floor, while the top two floors will be a penthouse.   
The project is in collaboration with the prestigious British architect and designer Norman Foster of Foster & Partners. Thus, expect to be blown away by the modern design, extreme attention to detail, and sophistication.   
Residents at the Palm Flower will enjoy stunning views of the Arabian Gulf and a range of high-end luxury amenities like a private pool, a private cinema, and an art gym.   
One Za'abeel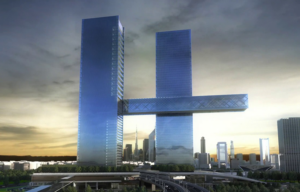 Another remarkable feat of engineering and architecture is the One Za'abeel project. The development will be strategically located in the middle of Zabeel Park and the Dubai World Trade Center and is being designed by the Japanese firm Nikken Sekkei.   
The project will comprise two inter-connected towers via the world's longest cantilever bridge at 100 meters high. It will be a mixed-use space with the perfect fusion of state-of-the-art amenities, fine dining spaces, retail, residential, and office space.   
Mall of the World 
You thought you'd seen the biggest shopping mall when you saw Dubai Mall? Wait till you experience the expanse of the Mall of the World, which is planned to be the biggest mall in the world to date.   
It is an ambitious project by Dubai Holding that will comprise a never-ending space of retail outlets, dining, an indoor theme park, Pedestrian City, hospitality and wellness districts, and hotel rooms. The unique feature of this project, however, will be its retractable glass roof that will close and open according to the weather.   
Mall of the World will change your entire mall experience as you've known it till now.  
District 2020 
The UAE government is always known for its far-sightedness and clear vision for the progress and development of the Emirates. District 2020 is one such example of their vision of putting to productive use existing resources.   
The project of District 2020 will be located on the former site of Expo 2020. The plan is to develop the area into an upscale residential and mixed-use community, incorporating sustainable design and construction practices. The developers will wholly implement sustainable and eco-friendly design elements into the project.   
With the immense popularity of the Expo and the popularity of the design and space of the area, investors and residents are already on the lookout for purchasing properties in District 2020. The project is included in one of Dubai's most popular off-plan schemes.   
Deira Islands 
The Deira Islands are yet another luxurious waterfront project for all the waterfront living enthusiasts out there. A signature project by Nakheel Properties, the development will be next to the Deira district.  
These are a group of artificial islands that will combine hotels, resorts, retail, residences, and more. Picturesque views and high-end living are what you can expect at Deira Islands.  
Dubai Creek Towers 
If you thought the tallest building in the world was Burj Khalifa, you're in for a surprise. The Dubai Creek Tower, once completed, will officially take over that esteemed title. Built by none other than the prestigious developer Emaar, the tower will be located in the heart of the picturesque Dubai Creek Harbor.   
Ride the Tide of the Future with Dubai's Upcoming Real Estate Projects
With a lucrative market forecast and a massive demand for property, coupled with competitive price points, the real estate sector will continue to thrive. This encourages the developers to continue to launch a string of exciting projects that take our breaths away.   
There is a lot to look forward to this year and the next, with a range of fantastic projects underway and more in the pipeline waiting to be announced. These projects will epitomize technological innovation, superior engineering, and sustainability. They will offer residents the finer life that Dubai is known for.   
Ready to explore your options in Dubai's real estate? Don't miss a chance to invest in some of these fantastic projects. Get in touch now.