Despite the market slump following on the heels of the pandemic, Dubai's real estate sector was quick to bounce back to its previous glory – stronger and larger. Yet, will the sector's upward trend continue in the coming years? Investors are increasingly curious to learn about the future of Dubai's real estate for their long-term investments. Hence, we dive deep into the topic in our blog today, bringing you opinions and predictions of industry experts. 
As the Middle East's financial and economic hub spearheaded its growth with regards to its infrastructure and economy, foreign investors and high-net-worth individuals (HNWIs) continued showing a rising interest in Dubai's real estate.  
Still, having gradually risen from the pandemic-induced 2-year market stagnation, people are filled with trepidations regarding investing in the city's real estate. The top question on everybody's mind nowadays is, "What does the future look like for Dubai's real estate industry"? and "is buying property in Dubai worth it"?   
Read on to find out. 
What Will the Future Hold for Dubai's Real Estate?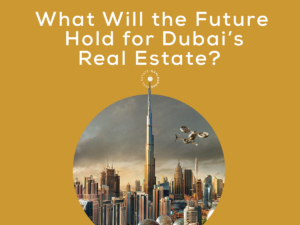 United Arab Emirate's government made some serious strides to augment the country's development and progress after COVID to make Dubai once again a hub of financial and commercial activity in the MENA region. Thus, major real estate developers increased their construction projects and building zones across the city by more than 100%.   
We collated data from Realiste, a Poptech company based in Dubai that develops AI-powered tools to enable real estate investment in major world cities by providing market analysis, predictions, and forecasts for buying and selling.   
According to Realiste's data, property prices in Dubai have grown by 20-40% over the past year, and the real estate sector is all set for more growth in 2023. The statistics point to a projected growth rate of 46%. Thus, Dubai is expected to continue to attract foreign investors who want to relocate and accumulate their assets in a safe zone untouched by the world's geopolitical and energy crisis. Consequently, this will lead to a significant surge in demand for property this year.   
As per Realiste's analysis, the areas that showed the highest growth in 2022 by reaching their price limit will still grow but at a modest rate compared to underestimated areas that recorded slower growth last year by not reaching their price limit. These areas will experience a tremendous growth rate in 2023.   
Overall, the future will see an uphill trend in Dubai's real estate market. Property prices will increase 10-15% on average for most areas, with some areas recording a price increase of up to 46%.   
Furthermore, the previous impact of caps on borrowing, loan payments, and falling oil prices will decrease, proving fruitful for the industry.  Thus, it's safe to say the future of Dubai real estate looks bright and promising.
Factors Behind Dubai's Real Estate Boom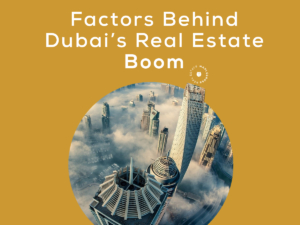 Here are the primary factors that have contributed to the real estate sector's recent boom:  
World events significantly contribute to a country's economy, positively or adversely. Recently, major geopolitical events impacted Dubai positively. It experienced a massive inflow of private wealth as several Russian investors, entrepreneurs, and skilled professionals relocated here with their assets.  
With an influx of wealth, the economy naturally got on the road to progress with so many new investment and business initiatives underway.   
According to the AI and statistical agency Dsight, Dubai has recorded a 16% relocation rate of Russians in the past year.   
Dubai profited hugely from its strategic advantage of being close to Qatar, the FIFA 2022 World Cup host. During the event, Dubai attracted many tourists and investors who spilled over from Doha and were in search of investing or residing in the region.   
Rising Demand from Foreign Investors and HNWIs 

 
With increased tourism and a rising population, demand for real estate is always on the rise in a place like Dubai. As millions arrive in this city of dreams each day, developers consistently plan new real estate projects to provide a balanced supply to an augmented demand. Such an accelerated pace of real estate growth encourages foreign investors and HNWIs to pour their wealth into the city for better ROIs and wealth accumulation. Such activity has potent effects on the city's economy in terms of stabilizing it and putting it on the right track for prosperity.  
Relaxed Visa and Investment Policies

 

 
In a post-pandemic world, the UAE government has made serious strides to put its economy and progress back on track by relaxing its' visa policies. The introduction of the Golden and Green investor visas has made it possible for foreign nationals to obtain a long-term stay in the UAE. Long-term residency is often essential for expats to be able to work and invest in the country while physically residing there.   
Additionally, with the advent of the freehold zones, foreigners can buy and sell property in Dubai without any local sponsorships. Such government measures enable the real estate sector to thrive like never before.   
Lucrative Real Estate Projects for the Future 
According to the reports provided by industry experts, the following areas will be high-potential in 2023 in terms of property prices and ROIs and contribute to the bright future of Dubai real estate.
Residential communities like

Town Square

, Mudon, and

Damac Hills

will provide better ROIs to investors and sellers. 

 

2023 will experience consistent popularity and demand for luxury waterfront living. Areas like

Palm Jumeirah

have seen rising

property prices

with high demand. It is a prime example of the high-demand low supply ratio wherein investors will continue to profit from their purchases.  

 

Dubai Hills will continue to grow at a tremendous rate and will be preferred by individuals with families looking to reside in an area with lots of green spaces and sustainable living.  

 

Some of the high-demand areas for

luxury real estate

will be communities like

Palm Jumeirah

,

Jumeirah Bay Island

, and Emirates Hills. 

 

High-end properties will be another popular investment venture. 

 
MBR City,

Palm Jumeirah

, and Meydan City will be in-demand communities for

apartment

living. 

 

Jumeirah Village Circle

(JVC), Mudon, and Emirates Hills will be highly sought-after communities for villa living. 

 

Downtown Dubai

,

Damac Hills, and Dubailand will be in-demand communities for

rental properties

. 

 
Vision for the Future: Dubai 2040 
Dubai 2040 is a large-scale development plan the UAE government has crafted. It aims to convert Dubai into a more modern, contemporary, and futuristic version of itself in the next 20 years.  
As part of this project, the government plans to create new progressive zones, renovate the existing ones, and replenish the desert landscape with lots of green spaces. After its execution, Dubai will become one of the world's most stylized, luxurious, and futuristic cities, providing its residents with state-of-the-art infrastructure and high-end quality of life.   
According to the master plan, there will be a balanced development of high-rises, villas, parks, and green areas. The real estate sector will be one of the key players in executing this ambitious project and will hence attract an influx of foreign investments into the city.    
Furthermore, under the Dubai 2040 master plan, there will be an increase in loan-to-value and a decrease in interest rate ratios.   
Wrap Up 
In a favorable global context, an ever-increasing number of residents and revised investment and visa policies will augment the growth of Dubai's real estate sector. The Dubai 2040 master plan will only serve as the icing on the cake- taking real estate opportunities to a whole new level for the global investor.   
So, if you have till now entertained any doubts about the real estate sector's future in Dubai and questioned if it would be wise to conduct property transactions here in the coming years, you can go for it. Dubai will provide you with one of the region's safest and high-potential investment zones.  
Frequently Asked Questions 
Will property prices fall in 2023?
According to Reuters, residence property prices in Dubai are predicted to rise in 2023. The growth rate will be at a moderate pace compared to the previous year, which experienced a massive hike in property prices.  
Is real estate a good
investment
in 2023? 
Real estate will be a potent way of increasing your ROIs in 2023. Buying property in Dubai will serve as a significant long-term investment venture as the market continues its upward trajectory. Property prices will rise, and so will mortgage rates. 
Explore real estate investment opportunities with Maple & Rose and secure your future